With the All-Star break now upon us, the trade deadline looms large and is just over a month away. Where does each team stand and what moves should they be looking to make? We begin our look around the league with the Anaheim Ducks.
It's another lost season for the Ducks, who have been out of it since the summer. Last year, the team shed long-time core pieces like Hampus Lindholm, Josh Manson, and Rickard Rakell, and they're poised to do a similar sell-off this time around.
With the ultimate prize of Connor Bedard waiting for whoever wins the lottery, losing every game down the stretch might actually be an ideal scenario. You might see some shocking lineups in Anaheim before the season is over.
Record
16-29-5, 8th in the Pacific
Deadline Status
Seller
Deadline Cap Space
$36.29MM today, $61.34MM in full-season space, 0/3 retention slots used, 47/50 contracts used, per CapFriendly.
Upcoming Draft Picks
2023: ANA 1st, ANA 2nd, BOS 2nd, COL 2nd, ANA 3rd, MIN 3rd, ANA 4th, ANA 5th, ANA 6th
2024: ANA 1st, ANA 2nd, BOS 2nd, ANA 3rd, ANA 4th, ANA 5th, ANA 6th, ANA 7th
Trade Chips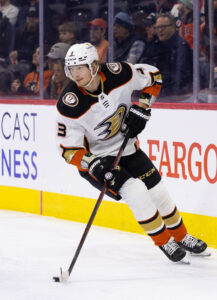 More than anything else, the Ducks have cap space. They can easily take on some bad contracts, or act as the middleman in a salary retention transaction to secure a few more assets.
But player-wise, they still have a number of interesting chips.
It starts with John Klingberg, who signed a one-year deal in the offseason with the expectation of a move at the deadline. The two sides even built in a no-trade clause that would modify in the middle of the year, giving him the ability to list 10 teams he's willing to go to. The problem is that Klingberg has played rather poorly, has just 17 points in 42 games, and still carries a hefty cap hit even if the Ducks retain half of it.
Klingberg may not get the return that the Ducks had hoped for when they agreed to the one-year, $7MM deal, but he does still seem likely to be moved at some point. Fellow right-handed defenseman Kevin Shattenkirk is also a pending free agent, as is Dmitry Kulikov. They play very different styles but could be of use to contenders looking to beef up their defensive depth.
Upfront, attention will certainly be paid to Adam Henrique and Jakob Silfverberg, who both are signed through next season. The veteran forwards are versatile enough to help out a third line, and cheap enough (with retention) that they could be attractive targets.
But don't forget about some of the younger forwards too. Max Comtois is a pending RFA and has fallen out of favor in Anaheim, playing fewer than 14 minutes a night this season. The 6'2″ winger plays a greasy game that might have a home in the playoffs, even if his offense has almost completely dried up over the last two years.
Even Anthony Stolarz, who has struggled behind a terrible team this season, could be a potential depth goaltending target for teams looking at bringing in a third option. The 29-year-old did post a .917 save percentage last season and is on an expiring deal worth just $950K. With Lukas Dostal the future in Anaheim, and John Gibson still locked up long-term, Stolarz probably doesn't have much of a future with the Ducks.
Other potential trade chips: F Derek Grant, F Frank Vatrano, D Nathan Beaulieu
Team Needs
1) Draft picks: The Ducks are still years away from becoming a successful program again, even with the young talented forwards already in the NHL. Adding a bunch of draft picks – especially ones for 2023 – will help accelerate that transition. Basically, anyone that's on an expiring contract should be shown the door, for whatever mid or late-round draft capital they can acquire.
2) Young centers: Last season, the Ducks acquired defensive prospect Drew Helleson, and young defenseman Urho Vaakanainen in deadline deals. This year, they should be looking to make the same kind of move with the middle of the ice in mind. It's not that the cupboard is bare at the center – far from it – but building from there will only help them in the long run, even if they need to shift players over at the NHL level.
Photo courtesy of USA Today Sports Images