02/12/23: On the 32 Thoughts segment of yesterday's Hockey Night in Canada broadcast, Sportsnet's Elliotte Friedman issued the following update on Karlsson and the Oilers, stating: "for this to work, [Karlsson's] got to be about a six-and-a-half to seven million dollar player," meaning the Sharks would need to retain around four and a half to five million dollars on Karlsson's contract.
That is, of course, a significant reported expectation and one that would leave the Sharks with a large chunk of dead money for the foreseeable future. Retaining such a large portion of Karlsson's deal would also, though, open up the Sharks and GM Mike Grier to likely earn a more valuable package of assets in return for their blueliner.
Were the Sharks to only retain a minimal portion of Karlsson's deal, the value they would be receiving from a Karlsson trade would be more centered around clearing his $11.5MM cap hit from their books, rather than adding valuable futures. Despite how well Karlsson has played this year, it's highly unlikely that a team would surrender many valuable assets to add the player if he's coming at his full price tag.
So what Grier and the Sharks front office will need to decide is whether the dead money associated with retaining Karlsson's salary in order to facilitate a move to Edmonton is worth it in order to receive the assets the Oilers are willing to send to San Jose in return.
If Oilers GM Ken Holland is willing to move one of the team's top prospects, such as Xavier Bourgault or Philip Broberg, does that make it worthwhile for the Sharks to retain more than the 18% of Karlsson's deal they have been previously reported to be willing to retain? It's a difficult question, and something the entire Sharks front office will need to wrestle with in the coming days if the Oilers truly are motivated to acquire the two-time Norris Trophy winner.
02/11/23: It has been a resurgent season for San Jose defenseman Erik Karlsson.  After battling injuries and putting up offensive numbers that were well below expectations, he has bounced back in a big way and all of a sudden, he's back to being a premier offensive blueliner.  That has caught the attention of some teams including Edmonton as Chris Johnston of NorthStar Bets and TSN reports (Twitter link) that the Sharks and Oilers have re-engaged in trade discussions about the defender.
The 32-year-old enters play today as the league leader for points by a defenseman by a fairly sizable margin as he sits 15 ahead of Buffalo's Rasmus Dahlin who sits second.  Karlsson is averaging an assist per game through 53 contests while also chipping in with 17 goals, four shy of his career high.  He's playing at a 108-point pace which would blow past his previous benchmark of 82 which came back in 2015-16 when he was still with Ottawa.
Karlsson is also logging heavy minutes, averaging 25:36 per night, his highest ATOI since 2017-18.  That puts him fifth among NHL defenders despite seeing very little time on the penalty kill, averaging just a dozen seconds per night in that situation.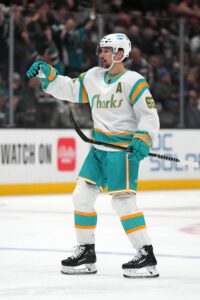 Of course, there are other numbers that must be kept in mind with Karlsson.  The first is an $11.5MM cap hit, the richest contract for a defenseman in NHL history.  The other number on that front to know is four which represents the number of years left on his contract after this one; he's signed through 2026-27.  That's a difficult contract for pretty much any team to be able to absorb.
In Edmonton's case, finding a way to fit in Karlsson's contract would be extremely difficult.  With Kailer Yamamoto nearing a return to the lineup, Edmonton's already in a situation where they're going to have to make a cap-clearing move to activate him off LTIR.  Recent speculation has Jesse Puljujarvi (who scored the game-winner in Ottawa today) being a potential waiver candidate in the coming days as a result.  Adding an $11.5MM contract to their cap puzzle, one that GM Ken Holland said this week is a money-in, money-out situation, would be that much harder.  To that end, Johnston notes that there are considerable financial hurdles on both ends for this potential move to work.
Edmonton has been believed to be looking for defensive help dating back to the last couple of years but their cap situation has resulted in some smaller moves being made.  Karlsson would definitely fit the bill as being a legitimate number one defender that can log heavy minutes and take some pressure off Darnell Nurse.  He'd also elevate what is already an elite power play which entered today's action clicking at a success rate of over 31%.  However, they also have a pretty good offensive defender in Tyson Barrie at the moment while they have high expectations for young blueliner Evan Bouchard so they'd be adding to an area that is already relatively strong.
San Jose is eligible to retain up to 50% of Karlsson's contract and the retention must be uniform throughout the remainder of his contract.  Of course, by doing so, the potential acquisition cost would go up considerably as basically any retention will result in millions of dollars of dead money and the Sharks won't be doing that for cheap.
Accordingly, finding the right combination of future assets (prospects and picks from a system that isn't among the deeper ones in the NHL) to satisfy San Jose's needs as they embark on a rebuild along with movable roster players from Edmonton to balance out the money is going to take some time.
With Connor McDavid and Leon Draisaitl in their respective primes, Edmonton's window to win is now.  Acquiring someone like Karlsson would be an extremely bold move, one that would certainly elevate their status in the tight Western Conference.  Now, can they find a way to make the money work?  That's a tough question for a lot of teams this season but there is definitely an added layer of difficulty at play for this potential move.  If Holland can find a way to make it work, the Oilers will certainly become a top threat as a result.
Photo courtesy of USA Today Sports Images.