The Vancouver Canucks have made the worst-kept secret in hockey official. Rick Tocchet has been hired as head coach to replace the outgoing Bruce Boudreau, per a team release Sunday. Former NHL defensemen Adam Foote and Sergei Gonchar have also been added to the coaching staff, replacing assistant Trent Cull.
Foote directly replaces Cull as an assistant coach, and he'll complement assistants Jason King and Mike Yeo and goalie coach Ian Clark on Tocchet's staff. Gonchar was brought in as a "defensive development coach," and it's unclear whether he'll be behind the bench for regular game action.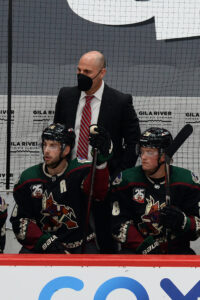 Tocchet replaces Boudreau, one of the most well-respected coaches in NHL history. Boudreau coached just 103 games with the Canucks, however, and finished with a 50-40-13 record. After finishing the 2021-22 season in Vancouver with a great pace of 32-15-10, the Canucks have just a .424 points percentage in 2022-23 and sit well out of the Western Conference playoff picture.
Boudreau's departure from the Canucks organization is viewed as one of the ugliest in recent history by many, with many details of the veteran coach's impending firing being leaked to the media throughout the decision-making process. The 68-year-old was visibly emotional as he coached his last games with the Canucks this week and received an outpouring of support from Canucks fans in the process.
Tocchet is now brought into a highly complex situation in Vancouver, where he serves as the 21st head coach in franchise history. In 438 games as an NHL head coach with the Tampa Bay Lightning (2008-2010) and Arizona Coyotes (2017-2021), he has a record of 178-200-60 and just one playoff appearance with Arizona in 2020.
General manager Patrik Allvin had the following statement on Tocchet's hiring:
Rick Tocchet brings a wealth of knowledge to this team from both a coach and player perspective. He has had more than two decades of coaching experience, guiding teams of various styles. As a player, he displayed a high level of character, grit and intensity, while recording impressive offensive numbers.
Foote and Gonchar are some of the best defensemen in NHL history. They are obviously very targeted hirings by the Canucks organization to plug the defensive holes that have existed on their roster for the past number of years. However, their coaching experience is somewhat limited.
Foote coached midget hockey for a time in the 2010s but most recently served as the head coach of the WHL's Kelowna Rockets for two seasons from 2018 to 2020. His only NHL front office experience consists of four seasons as a development consultant for the Colorado Avalanche, from 2013 to 2017.
Gonchar, 48, did spend five years as a coach with the Pittsburgh Penguins. He was a defensive development coach there as well from 2015 to 2017, during the team's back-to-back Stanley Cup championships. He was then on staff as an assistant coach for three years from 2017 to 2020. He's since served in various coaching capacities with the Russian national team.
Photo courtesy of USA Today Sports Images