There is a brand new name to throw out onto the 2023 trade deadline hot stove, and it's a big one. Frank Seravalli of Daily Faceoff writes that Nashville Predators general manager David Poile "is ready to consider moving" Mattias Ekholm, and lists him as "available" in his first Trade Targets board.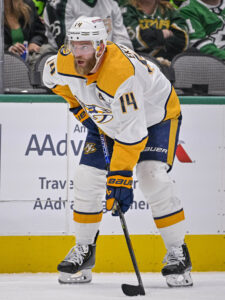 Ekholm, 32, signed a four-year $25MM extension with the Predators in 2021 that just kicked in this season, but like many others in Nashville over the years, was not able to secure any trade protection. Poile has only given no-trade or no-movement clauses out to Pekka Rinne, Roman Josi, and most recently Filip Forsberg, opting instead to maintain all control if he needed to part with a key player.
That would certainly describe Ekholm, who has been a rock on the Nashville blueline for more than a decade. The veteran defenseman has played 697 regular season games for the franchise, averaging nearly 22 minutes a night. He even received some Norris Trophy attention in 2018-19 when he set a career-high with 44 points, though his responsible defensive game gets much more attention than his offensive ability.
Ekholm's name has come up a few times in the past when the Predators are facing a cap crunch thanks to underperforming veteran contracts. That's the case this season, with Nashville dropping to 15-14-6 after some recent struggles. They are one of the lowest-scoring teams in the league (only the Anaheim Ducks have scored fewer goals so far) and yet have three forwards making at least $8MM per season.
Ryan Johansen's encouraging 2021-22 campaign looks like a mirage, as his offense (and playing time) is back down, while Mikael Granlund is on pace for fewer than ten goals in the second season of a four-year, $20MM contract. If Poile and the Predators start to sell, there aren't a ton of attractive assets to move.
Even Ekholm, who carries a $6.25MM cap hit, may not bring back what he could have a few years ago. He'll turn 33 in May, has a lot of miles on his body (including 886 blocked shots), and doesn't have the same offensive impact he once did. Signed through 2025-26, it would require a significant investment from the acquiring team.
Seravalli also lists Ryan McDonagh as a possibility, though suggests the Stanley Cup champion's no-trade clause (which was given to him by the Tampa Bay Lightning) could make that more difficult. With seven 30+ players on the roster making at least $4MM per season – and none of them on expiring contracts – the Predators could be in for some tough times if things don't turn around.
Photo courtesy of USA Today Sports Images