Because of the path he took to NHL success, it's easy to overlook Michael Bunting when considering the 2023 free agent class. The Toronto Maple Leafs winger didn't play regular minutes until he was almost 26, and still hasn't hit 150 games in his career.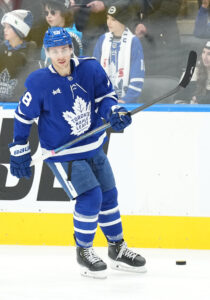 But overlooking him is probably a mistake. Since coming up to the NHL with the Arizona Coyotes in March 2021, Bunting has scored 44 goals and 102 points in 137 games. That's an 82-game pace of 26 and 63, all for the low, low price of $950K per season. Does a lot of that have to do with the fact he rides shotgun with Auston Matthews (and one of Mitch Marner or William Nylander) for nearly every minute of ice time? Of course. But as many teams have found out in the past, it's not always easy to find players who can keep up with superstars.
Bunting, now 27, is heading into an interesting negotiation spot. He agreed to the extremely cheap, two-year deal with the Maple Leafs because of the opportunity they offered him, and the fact that he's a Toronto native. He now has an opportunity to build even more goodwill in his hometown by signing a discount deal, but is also in a position to cash in on his numbers. There's a good chance that the Maple Leafs wouldn't be able to match what he could land on the open market, given the state of their cap and the upcoming negotiations with Matthews and Nylander.
With that in mind, it might be beneficial to get a contract done as soon as possible. Pierre LeBrun of The Athletic reports that the Maple Leafs have "touched base" with the Bunting camp this week to have a preliminary talk about his future. LeBrun notes that it is unclear which way things will go at this point.
He's not a superstar by any means, but Bunting does sit 73rd among NHL forwards in scoring since the start of last season. That's tied with players like Taylor Hall, who signed a four-year, $24MM contract in 2021, and Andre Burakovsky, who inked a five-year, $27.5MM deal last summer. You can argue that the history of those players demands bigger paychecks, but the raw production doesn't.
With 16 points in his last 16 games, including two goals against the Colorado Avalanche on Saturday, it doesn't appear like that production is stopping anytime soon. The Maple Leafs do have several contracts coming off the books – Alexander Kerfoot, Pierre Engvall, David Kampf, Wayne Simmonds, Zach Aston-Reese, and Justin Holl are all pending UFAs – but shifting a big chunk of that money to Bunting would take a huge hit out of their depth. Unless he's willing to take a sweetheart deal for his hometown club or the Maple Leafs are able to keep the cap hit down by going long (long) term, it's hard to see how it moves past preliminary talks.
Photo courtesy of USA Today Sports Images