The Montreal Canadiens have issued some injury updates, news covering several key players. Firstly, the team has revealed that rookie defenseman Kaiden Guhle has suffered a lower-body injury that will keep him out of the lineup for a minimum of eight weeks.
Additionally, forward Brendan Gallagher has suffered a lower-body injury and will be out for at least two weeks.
Finally, both Mike Matheson and Sean Monahan skated this morning, and are considered to be progressing well. Even so, both are expected to remain out of action for the next two weeks.
These developments are not especially encouraging ones for the Canadiens, who have been on a nightmarish stretch as of late. After an impressive start, the Canadiens have now lost six straight games and nine of their last ten.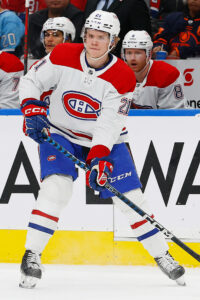 Losing Guhle for eight weeks is a particularly disappointing development given how much of an important role he has played for the Canadiens in what has been an impressive rookie season.
Guhle has averaged the second-most minutes played of any regular Canadiens defenseman this season, behind only veteran blueliner David Savard.
He's seen significant minutes on the penalty kill, and has impressed many with the poise he's displayed in such unforgiving circumstances.
He now faces a relatively long recovery process, and in his absence, the Canadiens will be forced to rely even more on veterans Savard and Joel Edmundson, while also putting their glut of rookie blueliners under siege to an even greater degree than they have already been.
For Gallagher, another two-week absence due to injury is an unwelcome development, especially given the fact that he had just recently returned from an injury-related absence. Various ailments have laid waste to the veteran forward's past two seasons, and is now seemingly derailing a third-straight campaign.
As for Matheson and Monahan, the news that they are progressing well is an important positive development for the Canadiens. While they'll still remain out for the next two weeks, getting the two veterans on track to eventually return is a nice boost.
Monahan has been great in Montreal, scoring 17 points in 25 games, while Matheson has played significant minutes in the few games he's skated in this year.
Picture courtesy of USA Today Sports Images