While we're still a little while away from the trade market picking up, there was still quite a bit of notable news around the hockey world which is recapped here in our key stories.
Pearson Done For The Year: Canucks winger Tanner Pearson was supposed to be back by now after suffering a hand injury in early November.  Instead of returning, however, he's now out for the season after undergoing another surgery.  On top of that, there are now investigations by both the team and the NHLPA over how Vancouver handled the situation following reports that multiple other surgeries will be needed that now has Pearson's availability for next season in question.  His season comes to a premature end with just 14 games played and he will now sit on LTIR through the end of the campaign.  Pearson has one year remaining on his contract with a $3.25MM AAV and it's worth noting that injured players can't be bought out.
Ekman-Larsson Scratched: Pearson's situation wasn't the only notable item out of Vancouver.  On top of more speculation about an eventual coaching change, the Canucks decided to scratch their key offseason acquisition from 2021 in Oliver Ekman-Larsson.  The blueliner has struggled offensively this season and has just a single goal in 41 games while his defensive play has also lagged as well.  Originally acquired from Arizona in a move that was designed to help the Canucks win in the short term, Ekman-Larsson hasn't been able to help accomplish that objective while he is signed through 2026-27 with a $7.26MM AAV on Vancouver's books (Arizona is covering another $990K per year).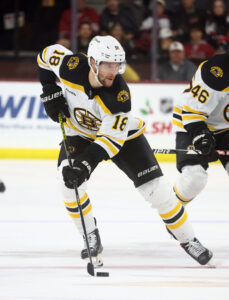 Four For Zacha: The Bruins have a long list of pending unrestricted free agents for next summer including several core players.  That list has shrunk by one as the team announced that they've signed Pavel Zacha to a four-year contract extension that begins next season and contains partial trade protection in each year.  The deal will carry a $4.75MM AAV, a nice raise for the 25-year-old who is on a $3.5MM deal for 2022-23.  This is Zacha's first year in Boston where he has fit in well, collecting 25 points in 42 games and is just four assists shy of matching his career high.  While he has mostly played on the wing this season, Zacha is a natural center so keeping him around will give Boston a bit of certainty down the middle with both Patrice Bergeron and David Krejci also having their contracts set to expire this summer.
More Injuries: Florida won the Presidents' Trophy last season but things haven't gone as well for the Panthers this year as they find themselves five points out of a playoff spot entering Sunday's action.  They'll now try to close that gap without their promising young goaltender as the team placed Spencer Knight on IR with an undisclosed injury.  Knight has taken some playing time away from veteran Sergei Bobrovsky and has a save percentage that is ten points higher than Bobrovsky so missing Knight will certainly make their battle a little tougher.  Meanwhile, not long after returning to Montreal's lineup from a lower-body injury, winger Brendan Gallagher will now miss at least six weeks with a lower-body issue.  The 30-year-old has just four goals and five assists in 25 games this season, hardly the return the Canadiens were hoping for on a $6.5MM cap hit that runs through the 2026-27 campaign.
Midterm Rankings: The 2023 draft class is being hyped as one of the stronger ones in recent memory and the midterm rankings from NHL Central Scouting have been released.  Unsurprisingly, center Connor Bedard leads the way for North American skaters with middlemen Adam Fantilli and Will Smith behind him.  On the European skater side, there is a new number one as center Leo Carlsson is in the top spot with winger Matvei Michkov second and defender Axel Sandin Pellikka third.  Between the pipes, Carson Bjarnason and Alexander Hellnemo are the top-rated goalies in North America and Europe respectively.
Photo courtesy of USA Today Sports Images.