Yesterday, the Canucks announced that Tanner Pearson's season has come to an end as the winger needed to undergo additional hand surgery.  It's at least the second known procedure he has had while Rick Dhaliwal of CHEK and The Athletic reports (Twitter link) that it's possible that he has had one or two other procedures on his hand with there being concerns of an infection and perhaps more surgeries to come.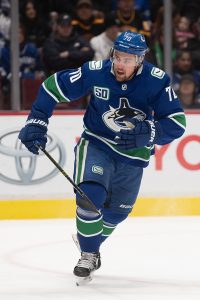 At the moment, the expected recovery time from Pearson's latest surgery is six months if all goes well.  However, Dhaliwal cautions that it's possible that Pearson misses time next season or isn't able to play at all should further surgeries be needed.  At this point, it appears to be too early to tell either way.
Speaking with reporters postgame yesterday including Sportsnet's Iain MacIntyre, Vancouver defenseman Quinn Hughes voiced some frustration with how things were handled with Pearson, stating that "it wasn't handled properly".  Today, the NHLPA acknowledged to Patrick Johnston of the Vancouver Province that it's looking into the matter but declined to comment any further than that.  MacIntyre adds that the Canucks themselves will conduct an investigation into their handling of the injury.  Team president Jim Rutherford stated the following:
We take the situation very seriously. We certainly have to look at everything here when something like this happens, and we're going to continue to do that. We want to talk about what happened, the decisions that were made and why. We want everyone involved to have a say and be able to talk to each other and ask questions. That's very important.
Pearson originally suffered the injury back in November and underwent surgery the next day with an expected recovery timeline of four to six weeks.  He had been skating periodically to keep up his conditioning with the expectation that he'd be back at that time or soon after.  Now, a little more than two months later, he's facing a six-month recovery at a minimum in what appears to be the best-case scenario.
It's hardly an ideal situation for anyone involved as Pearson wraps up his season with just a goal and four assists in 14 games, not a great return on his $3.25MM cap hit.  Some have suggested that Vancouver might want to consider buying out the 30-year-old but teams can't buy out an injured player and with Pearson's expected timeline, that puts him past the June buyout period.  Meanwhile, with now at least a bit of uncertainty of his availability for next season and the NHLPA taking a closer look at things, there are still plenty of questions to be answered on this front in the days and weeks to come.
Photo courtesy of USA Today Sports Images.