As American Thanksgiving and the holiday season are upon us, PHR is taking a look at what teams are thankful for in 2022-23. There also might be a few things your team would like down the road. We'll examine what's gone well in the early going and what could improve as the season rolls on for the Edmonton Oilers.
Who are the Oilers thankful for?
Connor McDavid and Leon Draisaitl.
Is there really any other answer here? Edmonton's dynamic duo has wholly separated themselves from the rest of their team, for better and worse. McDavid and Draisaitl are both in the top four in league scoring and are the only Oilers with double-digit goals on the season. With Evander Kane sidelined long-term, they need nothing short of absolute excellence from those two, and they're delivering.
Outside of them, Edmonton's scoring depth is bordering on atrocious, at least among healthy players. Outside of Ryan Nugent-Hopkins and Zach Hyman, no healthy Oilers forward has more than five points.
While they can't do it all themselves, it's impossible not to have optimism for the Oilers with those two on the ice. Even their advanced defensive numbers are improving, albeit just slightly in Draisaitl's case, and they're averaging more than 22 minutes a game. Without generational-level play from them, Edmonton is much further outside of the playoff picture than they currently stand.
What are the Oilers thankful for?
Their power play.
The Oilers are struggling mightily at even strength. Their -13 goal differential at 5-on-5 is sixth-worst in the league and the worst among teams currently in playoff position. However, Edmonton's 21 5-on-4 goals are tied for first in the league, and their 28.8% conversion rate is tied with the Stars for third. It may not be a sustainable formula for long-term success, but their power play has been essential for the Oilers to keep pace while addressing their other issues.
What would the Oilers be even more thankful for?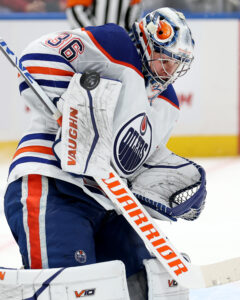 A return to form for Jack Campbell.
Edmonton's scoring issues have been a significant root cause of their middling performance, and Stuart Skinner has stabilized the crease for now. Nonetheless, the Oilers still committed five years and $25MM to the netminder this offseason, and they need at least average goaltending for that price point.
Campbell's failed to live up to that. He's had some bright spots on the year, and he still has a 7-5-0 record, but his goals-against average is north of 4.00, and his save percentage is just .875%. They don't need the small stretches of elite play he's shown in the past, but they do need a number much closer to the .900% save percentage mark, even in a tandem role.
What should be on the Oilers' holiday wish list?
A scoring winger before the deadline.
Kane's return will inevitably solve many of this team's issues. Still, if youngsters like Kailer Yamamoto and Jesse Puljujarvi continue to underperform, their offense won't be deep enough for another deep playoff run. While some may argue a gritty bottom-six presence is what the team needs, you simply can't win a Stanley Cup without capable depth scoring. There are sure to be plenty of sellers at the deadline wanting to improve their chance at a top-two selection in the draft, with multiple affordable options for Edmonton to choose from.
Photo courtesy of USA Today Sports Images