The Vancouver Canucks just got their first win of their season last night, and their front office remains busy. After acquiring Jack Studnicka from the Boston Bruins yesterday, the team has completed another trade.
As first reported by ESPN's Kevin Weekes, (with additional details from The Athletic's Thomas Drance) the Canucks have acquired defenseman Ethan Bear and forward Lane Pederson. In exchange, Carolina is receiving a 5th round pick. According to Sportsnet's Elliotte Friedman, the Hurricanes are retaining $400k on Bear's contract as part of the trade. The deal has now been officially announced. 
In a corresponding move, the Canucks announced that forward William Lockwood has been reassigned to their AHL affiliate, the Abbotsford Canucks.
For the Canucks, this trade could not come at a better time. Vancouver's blueline has been absolutely ravaged by injuries, and the team is in desperate need of reinforcements on that front. Their help now comes in the form of Bear, a 25-year-old defenseman with nearly 200 games of NHL experience.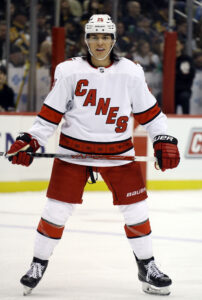 Bear never really seemed to find his footing in Carolina, and didn't play in any of the team's playoff games last season.
Before he was a Hurricane, though, Bear was seen as a promising young defenseman in the Edmonton Oilers organization, and perhaps the Canucks believe a change of scenery can help him get back to the form he showed as an Oiler.
Even if he doesn't return to that level of play, he still represents a likely improvement over the current depth blueliners the Canucks are relying on.
In addition to Bear, Vancouver is receiving a forward, Pederson. The 25-year-old was acquired by the Hurricanes as part of the Brent Burns trade, and will now be shipped to Vancouver having played just four AHL games as a member of the Hurricanes organization.
Pederson is a capable AHL scorer who should help bolster the Abbotsford Canucks, and he also has 44 games of NHL experience, albeit with just five points scored.
Possibly the most important aspect of this deal is the fact that the Hurricanes are retaining salary. Bear is on a $2.2MM cap hit this season, a cap hit the Canucks would be hard-pressed to absorb. Now, they've found a way to fit him in and will get an upgrade to their defense, an upgrade they desperately need.
For the Hurricanes, the team receives a fifth-round draft pick for a defenseman who they seemingly had no long-term plans for. As mentioned, Bear was never really a fit in Carolina, and now his time there is over.
Just on the basis of his play, Bear is likely more valuable than the fifth-round pick they received for him. But when you factor in how difficult moving money is in today's cap-strapped NHL, it's likely that finding a taker willing to take on Bear's full salary and pay more than a fifth-rounder to do so would have been a challenge.
Pictures courtesy of USA Today Sports Images