With the UFA market slowing to basically a halt, most of the news around the league from the past seven days has come from restricted free agency although there was a significant contract extension as well.
Four For Ferraro: It's not very often that a player coming off an entry-level deal signs a medium-term contract but that's exactly what the Sharks and defenseman Mario Ferraro did with the two sides agreeing to a four-year deal that carries a $3.25MM AAV.  The 23-year-old has become a key cog on their back end and averaged 23 minutes a game last season.  The most notable part about this contract might be that it walks Ferraro right to UFA eligibility while not buying any extra years of team control.  Cap space is limited in San Jose which likely took a long-term agreement off the table but it's still a little surprising that new GM Mike Grier preferred this route.  At any rate, the Sharks have a key defender locked up for four years at an affordable rate.
Devils Settle: New Jersey had a pair of wingers that were set to make it to an arbitration hearing and while both cases got to the point of making their filings, both were settled soon after.  First, the Devils worked out a one-year, $5.45MM contract with winger Jesper Bratt.  It was a well-earned significant raise for the 24-year-old who nearly doubled the AAV of his bridge deal after leading the team in scoring with 73 points in 76 games.  He'll once again be arbitration-eligible next summer.  Meanwhile, after opting for club-elected arbitration with winger Miles Wood, the two sides settled on a one-year, $3.2MM agreement.  The 26-year-old was limited to just three games last season after undergoing hip surgery but was valued enough by New Jersey to still be qualified last month.  Wood actually took a $300K pay cut compared to his salary from last season and will be an unrestricted free agent next summer.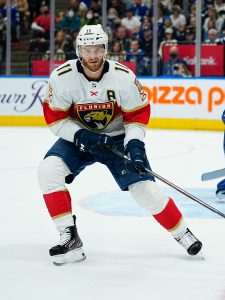 Huberdeau Extension: While Brady Tkachuk wasn't willing to sign a long-term extension with Calgary, one of the players he was traded for was open to doing so.  Jonathan Huberdeau opted to not test free agency next summer, instead signing an eight-year, $84MM extension that will begin in 2023-24.  The 29-year-old is coming off a career season that saw him put up 115 points, 85 of which were assists to set an NHL record for assists by a left winger.  More than 73% of the money is paid out in the form of signing bonuses while Huberdeau receives a full no-move clause for all eight years with a 19-team no-trade clause in the final two seasons.  The contract could very well be an overpayment in the final few seasons but it ensures Calgary will have a premier playmaker in the fold for the long haul.
Flames Sign Two More: Huberdeau's contract wasn't the only contract the Flames finalized as they managed to avoid arbitration with a pair of players as well.  Defenseman Oliver Kylington received a two-year deal with a $2.5MM AAV.  He became a regular part of Calgary's back end for the first time last season and he made the most of it, recording 31 points in 73 games.  Notably, this contract only buys out his final years of RFA eligibility.  Meanwhile, Andrew Mangiapane's career year earned him quite a raise as well as he was given a three-year deal that carries a $5.8MM cap charge.  After previously having a career-high of 32 points, the 26-year-old notched 35 goals last season, becoming a core producer for the Flames in the process.  His deal covers this last RFA-eligible year plus two seasons of UFA eligibility.
Yamamoto Re-Signs: The Oilers were hoping to sign Kailer Yamamoto to a longer-term deal than the one-year contract they gave Jesse Puljujarvi.  They were able to do that although not by much as the team signed the winger to a two-year deal that carries a $3.1MM AAV.  The 23-year-old is coming off a nice 2021-22 campaign that saw him pick up 20 goals and 21 assists, both career highs which helped him more than double the $1.175MM price of his last deal and he'll be owed a $3.2MM qualifying offer in 2024, his last summer of RFA eligibility.  With this signing, GM Ken Holland now has Edmonton's last ten first-round picks under contract (including prospects).
Photo courtesy of USA Today Sports Images.