When the Montreal Canadiens made the trade for Sean Monahan earlier today, some wondered whether it meant that Carey Price had not responded well to his rehab work. After all, the Canadiens are well over the cap if Price was going to be healthy enough to play this season.
That does not appear to be the case. Canadiens general manager Kent Hughes announced that Price will not be ready for the start of the season and there is a chance he does not play at all. News on the goaltender's knee has been "discouraging" and Hughes does not currently see a path through rehab to Price playing this year.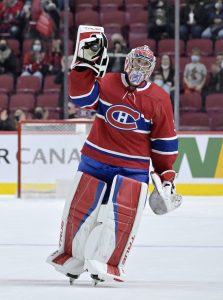 The team will have more information when Price undergoes his medical at training camp but as of now, they seem to be preparing for life without him. Monahan's addition pushed them nearly $6MM over the cap ceiling, though he too is unlikely to be ready for the start of the year. The former Calgary Flames forward underwent hip surgery earlier this year and Hughes expects him to be back at some point in November.
That will mean at least $16.8MM on long-term injured reserve to start the year, as the Canadiens use their cap space and financial might to acquire future assets.
Price has four years left on the eight-year, $84MM contract he signed in 2017, though a huge chunk of that has already been paid over the first half of the deal (and this year's signing bonus).
As frustrating as it may seem for Canadiens fans, the possibility of Price never playing again may actually benefit the organization in the long run. The 35-year-old goaltender has come nowhere close to performing up to the level of a $10.5MM cap hit over the last several years, save for the incredible performance in Montreal's cinderella run to the 2021 Stanley Cup Final.
Since he signed that massive extension, Price has recorded a .908 save percentage in 203 regular season games, posting a 91-86-24 record in the process. A huge reason for those struggles has been injuries, which have cropped up all over his body after so much time in the net.
While surgery remains an option to try and get his knee back to a level where he can reclaim the crease, there's no telling how his body would react to that kind of an operation at this point or whether he'd be able to perform at even an NHL level, let alone his own previous mark. With over 700 regular season games played, Price currently ranks 27th all-time, and is even higher (21st) on the wins list.
In the meantime, Jake Allen and Sam Montembeault will serve as the Canadiens' tandem, with restricted free agent Cayden Primeau still to sign.
Photo courtesy of USA Today Sports Images