The only remaining open team-elected arbitration case is that of New Jersey Devils winger Miles Wood. With his hearing scheduled for August 6, Wood and the Devils have the next two days to agree on a new deal prior to the arbitrator's hearing beginning.
It's the third arbitration-related case to be inevitably settled involving the Devils organization this week. The team agreed to terms with both Jesper Bratt and Tyce Thompson earlier in the week before their cases reached arbitration.
Filings
Team: $2.975MM
Player: $3.85MM
Midpoint: $3.4125MM
(via Sportsnet's Elliotte Friedman)
The Numbers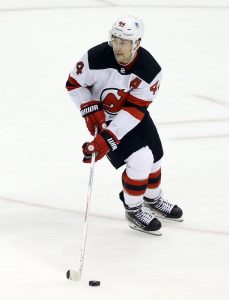 Ever since the Devils drafted Wood straight out of high school with the 100th overall pick in 2013, he's exceeded expectations every step of the way. His aggressive brand of hockey has endeared him to Devils fans over the years since making his NHL debut in 2016, and the power forward has shown solid streaks of offensive ability as well. The 2021-22 season was one to completely forget for Wood, though. The 26-year-old played in just three games, limited by a hip injury suffered just before the start of the season. He managed to return for a trio of games in late March and early April before being shut down again, going without a point.
With his health issues, the Devils' moves in free agency, and the development of their younger players, Wood's role on the Devils moving forward is less clear. It's obvious that the team still holds him in high regard, though, as evidenced by their arbitration filing of nearly $3MM. He'll likely battle players like Andreas Johnsson and Tomas Tatar for ice time in the top nine, but any three of those players would be rather expensive fourth-liners.
When an agreement is reached, don't expect it to be for more than one season. Wood is eligible for unrestricted free agency next offseason, and with the team's crowded pool of prospects and forward talent, his long-term future with the team at this point is anyone's guess.
2021-22 Stats: 3 GP, 0G 0A 0pts, 4 PIMs, 2 shots, 14:46 ATOI
Career Stats: 326 GP, 65G 56A 121pts, 351 PIMs, 706 shots, 13:23 ATOI
Potential Comparables
Comparable contracts are restricted to those signed within restricted free agency which means UFA deals and entry-level pacts are ineligible to be used.  The contracts below fit within those parameters.  
In the past in this series, we've only used comparables whose salary figures were compatible with that of the arbitration filings above. In this case, though, the team's arbitration filing is high given the unique circumstances, as the best comparables for Wood came in below the $2.975MM mark.
Scott Laughton (Flyers) – Laughton signed a two-year deal with Philadelphia in 2019 following an arbitration filing, carrying a $2.3MM cap hit. Coming off a season in which the former first-round draft pick set career-highs in games played (82), goals (12), assists (20), and points (32), initially, it's hard to imagine why the Devils filed at a higher number than this (more on that later). In recent seasons, Laughton has continued his progression into a solid middle-six role, developing further offensively and becoming one of Philadelphia's most important depth pieces. Laughton also had added value as a center (and coming in after playing an 82-game season).
Sam Bennett (Flames) – Bennett also signed a two-year deal in 2019 following an arbitration filing for only $250K more than Laughton's, coming in at $2.55MM. Bennett's numbers the prior season were worse than Laughton's, posting 27 points in 71 games, but five points in five playoff games plus a longer track record of offensive success than Laughton gave him a bit of an edge. Bennett has also broken out offensively later in his career, albeit with a different team. Given Bennett had also been tasked with playing in a top-six role at times, something that's more rarely been asked of Wood, he had a bit more clout, again, especially given his higher draft position and his ability to play center.
Projection
There are always surprises in hockey, undoubtedly. But it's hard to imagine the arbitrator awarding a figure closer to Wood's number, given his lack of play in 2021-22 and a host of comparables that come in below even the team's filing.
If Wood had played this season, we could be looking at an entirely different story. Another 30+ point season could have very well cemented his value in at least the $3MM range, and an award close to his $3.875MM filing wouldn't be extraordinary. But with Wood coming off a season in which he played virtually no hockey, it's nearly impossible to project how he'll perform next season, especially with his spot in the lineup uncertain. Because of that, it seems likely the arbitrator will side closer to the team's filing.
Given that the Devils filed for club-elected salary arbitration in the first window, there are a few restrictions worth keeping in mind (per CapFriendly), one of which explains the team's high salary filing. Wood can't be awarded less than 85% of his previous year's combined base salary and bonuses, which, despite a $2.75MM cap hit previously, was backloaded with $3.5MM worth of compensation in his final season. That $2.975MM value that New Jersey filed at is the minimum possible award for Wood.
If it reaches an arbitration ruling, Wood can only accept a one-year deal, given he's in his final year of restricted free agency. Additionally, since they elected for arbitration, the Devils can't walk away from the arbitrator's ruling.
Photo courtesy of USA Today Sports Images