The Calgary Flames have had quite the offseason. In a span of one month, they've lost two pillars of their franchise: Johnny Gaudreau and Matthew Tkachuk. Yet in the same month, they've added a Hart Trophy contender in Jonathan Huberdeau and a top-of-the-lineup all-around defenseman in Mackenzie Weegar. It's clear from GM Brad Treliving's actions that the Flames are intent on building on last season's 111-point campaign and competing for a Stanley Cup, despite the roster turmoil. They certainly look poised to do so, boasting a roster that includes a Vezina Trophy contender in net, a balanced, skilled forward corps, and a stout defense.
Outside of negotiations on a new contract for RFA defenseman Oliver Kylington, the team looks decently set, outside of one crucial area. As things currently stand, there's a bit of a logjam on the Flames' defense. The recent addition of Weegar, the extension of Nikita Zadorov, and the signings of Nicolas Meloche and Dennis Gilbert have left the Flames with nine defenders on one-way contracts, with a tenth on the way once Kylington's contract is settled.
NHL teams typically carry seven defensemen on their active roster, rarely carrying more unless there are special circumstances, typically injury-related considerations, in play.
At a glance, a solid chunk of the Flames' defense is set in stone. The pairing of Noah Hanifin and Rasmus Andersson is rock-solid, and since Kylington's breakout season in 2021-22 came next to Chris Tanev, it's definitely possible coach Darryl Sutter wants to keep them together. And then there's Zadorov and Weegar, two players who belong in the Flames' nightly lineup.
So, as things currently stand, the Flames have six proven NHL defensemen on their roster, occupying the six slots in the nightly lineup typically reserved for defensemen. The result of this abundance of riches is that Treliving will need to make a choice about how he pursues the construction of his opening night roster, and each route is not without its risks.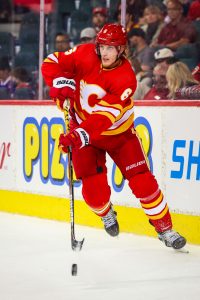 The first route Treliving can follow when it comes to his defense is to simply keep the five of their NHL caliber defensemen on their opening-night roster, (Tanev is hurt and will be on long-term injured reserve for the first few months of the year) carry one defenseman in their sixth slot on the bottom pairing, and then hold a training camp battle amongst the remaining one-way blueliners for the job of seventh defenseman.
This route would be the simplest and would be the route that allows the Flames to hold all of their established defensemen on their roster, something few other teams can boast. But the downside to this route would be only one defenseman in the group of Meloche, Gilbert, and Connor Mackey would be guaranteed to remain with the Flames, the rest would be exposed to waivers.
Season-opening waivers can be the best time to attempt to sneak a player on a one-way deal to an AHL affiliate, as most teams are dealing with a roster crunch and waiving their own players. Then-Carolina Hurricanes goalie Alex Nedeljkovic is a perfect example of this, as he cleared season-opening waivers in 2020-21 before making his way to the Hurricanes' roster and finishing as a Calder Trophy contender by the time the season concluded.
But even with that in mind, could the Flames reasonably expect to waive three defensemen on one-way contracts and keep them all? It'd be a major risk, especially if one of those waived players is Juuso Valimaki, who is just 23 years old and boasts first-round pedigree.
If the Flames don't want to leave the fate of the lower half of their defense corps up to chance, they could also opt to subtract from their impressive group of six NHL defensemen in order to add to their forward corps or get their hands on a different type of valuable asset.
Kylington sticks out in this regard. Andersson and Weegar are unlikely to be traded, and Tanev and Hanifin have the right to limited no-trade protection on their contracts. Zadorov is extremely unlikely to be dealt as a new signing. That leaves Kylington as the clear choice for the Flames if they choose to deal a defender to clear their logjam, and his ongoing contract standoff only emphasizes that point.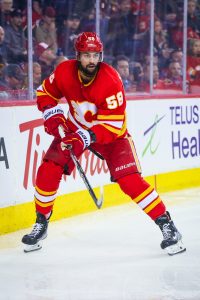 Kylington was once regarded as a top prospect and has been someone Flames fans for many years had hoped would finally turn his hyped prospect status into tangible NHL results. This year, he just did that. The freedom Tanev's elite defensive play provided Kylington allowed the 25-year-old to make the most of his tantalizing tools, and he finished 2021-22 with nine goals and 31 points in 73 games. He showed he could be a threat as a transitional defenseman and even flashed improvements to his all-around game. He could net the Flames a strong return, perhaps even a young forward from a team in need of defensive help.
Trading Kylington would be a tough pill to swallow after he finally had the break-out season the organization had been waiting for, but it would also help alleviate the Flames' (admittedly good) problem of having so many NHL defensemen. If the Flames want Valimaki to see regular minutes next season, this may be the route to take.
Whatever direction the Flames choose, they'll have to do something. As things currently stand, at least some combination of defensemen in Calgary will be available to other teams, either via a trade or waivers. If Treliving wants to control who stays and who goes, he'll need to be decisive.
Photo courtesy of USA Today Sports Images.  Contract information courtesy of CapFriendly.