The Colorado Avalanche have found a new goaltender. The New York Rangers have traded Alexandar Georgiev to the Avalanche in exchange for a 2022 third-round pick, a 2022 fifth-round pick, and a 2023 third-round pick.
This means that Darcy Kuemper is no longer expected to re-sign in Colorado, as the Avalanche go with a cheaper option to pair with Pavel Francouz. Georgiev, 26, is a pending restricted free agent due a qualifying offer of $2.65MM and is eligible for arbitration. Even if he landed a good settlement, it won't match what Kuemper will likely be able to command on the open market, especially in a year with such a shallow pool of free agent goaltenders.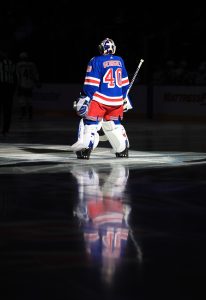 Interestingly enough, it appeared as though the Rangers were not going to issue that qualifying offer, which would have made Georgiev a free agent next week. With Igor Shesterkin in place and several free agents to sign, the team was expected to walk away from their backup if they couldn't find a trade partner. By landing three picks, general manager Chris Drury has squeezed quite a bit of value out of the last few days of Georgiev's tenure in New York.
In fact, his time there has been incredibly valuable, relative to the cost that the Rangers paid. Signed as an undrafted free agent in 2017, Georgiev played three seasons with the team under an entry-level contract, two more with a cap hit of $2.45MM, and now netted them three draft picks before he walked out the door.
With a .909 save percentage in 131 NHL games, he doesn't have a huge track record of success but there have been flashes of brilliance from the netminder, skill the Avalanche will hope to nurture in Colorado. The fact that Francouz has shown the ability to perform at a high level can make them a worthwhile tandem, not to mention the fact that the team itself has been able to overcome poor goaltending performances in the past.
For Colorado, with this core, it's time to push all the chips to the middle and try to repeat. The team now has no draft picks until the sixth round this year, and are already without six future picks as well. Given the relative youth of so many key players they can afford it, though a gap in prospect development like that can be a tough thing to overcome down the road.
Still, this leaves more money open for some of their other free agent negotiations. Nazem Kadri (UFA), Valeri Nichushkin (UFA), and Artturi Lehkonen (RFA) all played huge parts in the team's Stanley Cup win, and are deserving of big raises this summer. With a goaltending tandem that could very well cost less combined than Kuemper will make on his own, there are a few more dollars to go around.
Photo courtesy of USA Today Sports Images