With free agency nearing, many teams are looking to sort out their salary cap situations before the free-agent market opens on July 13th. One way to free cap space is through buyouts, and with buyout season now upon us, we're taking a look at players who could potentially see their contracts bought out within this year's window. 
While the San Jose Sharks have been among the most successful franchises in the cap era, recent years have not been kind to them. The Sharks, who fired coach Bob Boughner yesterday, have not made the playoffs since their 2019 run to the Western Conference Final, and this current streak of three consecutive finishes outside of the playoffs is the longest in franchise history.
So, while some have concluded that a rebuild is the right course of action for the Sharks, that doesn't seem to be the route the team will go on. The Sharks are currently still searching for the franchise's next general manager, and once their new leader is in place the organization is widely expected to have a mandate from ownership to return the team to the playoffs as quickly as possible.
The Sharks are an older team with many core veteran players on expensive, long-term deals. Erik Karlsson, Logan Couture, Brent Burns, and Tomas Hertl all are under contract for the next two seasons at least at cap hits north of $8MM. The result of the Sharks' superstar-hunting, big-spending ways under GM Doug Wilson (who was successful by every metric outside of winning a Stanley Cup) is that the team lacks the cap space to make the improvements needed to make a swift return to playoff contention.
Per CapFriendly, the Sharks have just under $6MM in projected cap room for this offseason, and with extensions for Mario Ferraro and Kaapo Kahkonen to consider, as well as an upcoming Timo Meier deal next summer, the Sharks' new GM won't be inheriting a rosy cap picture.
One of the possible ways for the Sharks to create more cap space to secure better players is through buyouts. The Sharks are no stranger to buyouts, having just last year bought out goaltender Martin Jones, and could pursue this route of creating cap space once again.
The one player whose name has frequently been mentioned as a buyout candidate this year is defenseman Marc-Edouard Vlasic.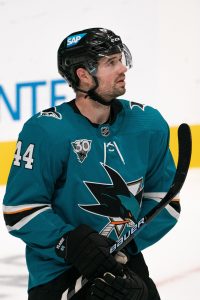 Once a premier shutdown defenseman, Vlasic's skills have eroded as he's aged, and the decline of his on-ice value has mirrored the decline in his on-ice role. Vlasic himself has seemingly not been thrilled about his declining usage under Boughner and spoke on it in his end-of-season press conference. After noting that he finished third among defensemen in points and was "more physical" than the year before, Vlasic asked the assembled media to "imagine if [he] played more," a clear indication that he believes his play is worthy of a greater role than he received in 2021-22.
On one hand, Vlasic is correct to note that his role has declined in recent years. Vlasic used to regularly play 22-23 minutes per game, anchoring the Sharks' defense and being routinely relied upon in the most high-leverage defensive situations. This year, Vlasic averaged a career-low 15:13 time-on-ice per game, ranking seventh on the team among defensemen with at least 40 games played. Vlasic is also correct that he did rank third on the team in points by a defenseman, although his 14 points in 75 games is certainly not an offensive breakout and still a steep decline from the offensive form he showed earlier in his career when he played in a Pete DeBoer-coached system that prioritized generating offense from the point.
On the other hand, Vlasic is clearly not worth the $7MM cap hit he earns. The work by The Athletic's Dom Luszczyszyn and Shayna Goldman assigns Vlasic a market value of just $600k, noting a clear negative impact on his team's offensive play. (subscription link)
Perhaps most damningly, Vlasic is no longer a factor on the Sharks' penalty kill. Vlasic averaged only 49 seconds of shorthanded ice time per game, which ranked seventh among Sharks defensemen. Vlasic is an extremely accomplished player who means a lot to the Sharks franchise. That much is not arguable. But if he's a defense-first blueliner who has become a non-factor on the penalty kill and has little to no offensive value, can the Sharks afford to keep him on their books at a $7MM cap hit and realistically be able to return to playoff contention?
That's the question the Sharks' next general manager will need to grapple with. For what it's worth, Vlasic seemed completely unconcerned by the possibility of a buyout, answering with a simple "no" when asked if he was concerned about being bought out this summer. But even if Vlasic does not believe the possibility is likely, the cap benefits would definitely look appealing to any GM planning on making immediate moves in free agency.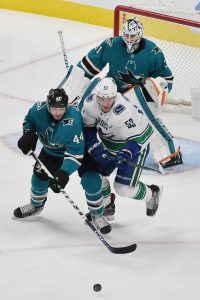 Under a Vlasic buyout, the Sharks would save $3.3MM against the cap in 2022-23, $5.5MM in 2023-24, $2.8MM in 2024-25, and $1.8MM in 2025-26, at the cost of a $1.68MM dead cap charge from 2026-27 to 2029-30. If the Sharks are certain that they want to return to the playoffs as early as next season, saving nearly $9MM over the next two seasons could be huge in helping the team secure the necessary upgrades to their roster in order to do so.
If the Sharks' next coach is intent on utilizing Vlasic in a similar fashion to how Boughner deployed him in 2021-22, then a Vlasic buyout wouldn't be too disruptive to the Sharks' ability to construct a defense. So, with the potential to save several million dollars against the cap in the next two years, with moderate savings in the two years after that, the possibility of a Vlasic buyout cannot be ruled out for a Sharks organization desperate to return to the playoffs.
Photos courtesy of USA Today Sports Images