The San Jose Sharks announced a pair of extensions today, locking up Alexander Barabanov and Jaycob Megna for the next two years. Those deals were necessary for two players who have found a home in San Jose but certainly not the headline-making news that fans are hoping for, now that the team is going to be under new management.
Long-time general manager Doug Wilson has stepped down, leaving the Sharks with Joe Will as interim manager until a more permanent solution is found. When that new solution is found, however, there will be some huge questions to be answered in terms of the direction of the team. After an almost unprecedented era of regular season success, that saw the Sharks qualify for the postseason in 19 of 21 seasons, they've missed the playoffs in each of the last three and now face some difficult decisions.
The biggest among those: what to do with an aging, expensive defense corps?
The Sharks have $26.5MM in cap hits tied up in three defensemen that will all be at least 32 at the end of this month. Erik Karlsson, the youngest of the three, carries an $11.5MM cap hit through 2026-27. Marc-Edouard Vlasic, 35, is signed at a $7MM cap hit through 2025-26. And then there is franchise legend Brent Burns, who despite turning 37 a few months ago, is still carrying an $8MM cap hit through 2024-25.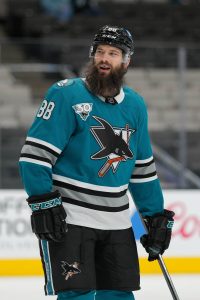 It is Burns' future that is perhaps the most intriguing. Karlsson and Vlasic each have full no-movement clauses, blocking any potential trade unless they approve it but Burns will have to submit a new list on July 1, one which would allow the Sharks to trade him to three teams without getting his approval again. While that obviously doesn't give them much wiggle room, Burns' front-loaded contract, shorter term, and still strong play have at least sparked some speculation. On today's 32 Thoughts podcast, Elliotte Friedman of Sportsnet explained:
I believe they had some trade talks with a couple of teams on Karlsson this year. However, I don't think that has gone anywhere, and I'm told it's not that likely, because it's just a big contract. Burns has three years left, the contract in terms of actual salary goes down, and he's still a heck of a player. 

I just think that everybody recognizes here that there is the possibility this might be one of the ways that the Sharks try to break up their logjam, as long as they get what they want. I was told specifically by one of the teams that they are not giving Burns away. That is just not happening. There is a package they want and they are going to demand it. 
Though the contract carries an average annual value of $8MM, Burns is owed just $16.5MM over the last three years of the deal, $3.5MM of which will be due in signing bonuses next season.
Despite his age, Burns has continued to be a huge factor for the Sharks on the ice. He averaged more than 26 minutes a night this season, played in all 82 games, and racked up another 54 points. Though some may think of the veteran defenseman as an offense-only player, he actually logged nearly three minutes a night on the penalty kill this year, while recording a career-high 150 blocked shots. That level of play is obviously still valuable, but there is so much risk in having nearly a third of the salary cap tied up in those three aging defensemen.
One can see exactly why by dissecting the play of Vlasic, who has taken several steps back in recent years. Once one of the most feared shutdown defenders in the entire league, his playing time was slashed dramatically this season, to the point where he was averaging just over 15 minutes a night when he was in the lineup. A buyout is one way out for the Sharks but if they went that direction this offseason, they'd be carrying a substantial cap hit through 2029-30. Friedman and co-host Jeff Marek both agree that while a buyout did seem like a possibility, Will spoke as though Vlasic would be coming back at the team's end-of-year media availability.
An interesting wrinkle in all of this is the situation surrounding Mario Ferraro, arguably the team's most valuable defenseman behind Burns. The 23-year-old is a restricted free agent this offseason and could be in line for a hefty raise, if the team wanted to sign him long-term. As it stands that doesn't really even seem possible with so much money tied up elsewhere, meaning the team could have to go short-term and try again later; Ferraro does not have arbitration rights this offseason and would theoretically have to sign his qualifying offer if the team wanted to squeeze him (or an offer sheet elsewhere).
Photo courtesy of USA Today Sports Images