The Vancouver Canucks have lots of questions to answer this offseason. The most pressing one is whether they can get a deal done with head coach Bruce Boudreau, who has a negotiating window until June 1 but no contract extension in place just yet. The two sides have said all the right things when it comes to working together and will have to iron out a deal if the veteran coach is to stay put. It certainly seems like he's going to be sticking around though, as Elliotte Friedman of Sportsnet reported yesterday on CHEK TV that Boudreau was present (virtually) in the meeting with Russian free agent Andrei Kuzmenko.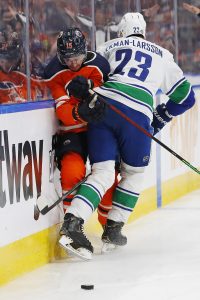 Beyond the coaching situation though, more decisions are coming on players like Brock Boeser, Bo Horvat, and J.T. Miller. Currently, none of the three are signed past the 2022-23 season, with Boeser not even signed for next season yet. If the new management group wanted to shake up the core, those three are certainly avenues to consider.
Still, there is another name that earns big money in Vancouver and could potentially be part of a retooling effort. Friedman went on to tell Rick Dhaliwal of CHEK TV that the team is trying to find a trade market for Oliver Ekman-Larsson, just a year after acquiring him from the Arizona Coyotes.
Now 30, Ekman-Larsson is signed to a massive eight-year, $66MM contract that won't expire until the summer of 2027. As part of it, he also owns a full no-movement clause that gives him total control of his situation. When the Coyotes made it clear that they wanted to move him, Ekman-Larsson gave just two teams that he would be willing to go to–the Canucks and the Boston Bruins. If Vancouver has now soured, it seems he would have to provide someone else if a trade is to occur. The Bruins, of course, found their own Swedish defenseman at the deadline, acquiring and extending Hampus Lindholm to a long-term deal.
It's not that Ekman-Larsson had a terrible year, as he put up 29 points in 79 games while averaging more than 22 minutes a night. But the contract that was so happily acquired by the previous management group is a difficult one to deal with, even despite the Coyotes retaining a small portion. Vancouver already has nearly $70MM in cap hits committed to next season with just 13 players, making it tough to really add to the group if they wanted to.
Again, the veteran defenseman has full control in this situation. A buyout would be untenable at this point and even if the Canucks wanted to retain additional salary to facilitate trade, Ekman-Larsson would have to first accept the destination.
Photo courtesy of USA Today Sports Images