When a team is eliminated from the postseason, and especially when it is four straight games, the entire organization goes under the magnifying glass. That's exactly what has happened for the Florida Panthers, after bowing out quietly against the Tampa Bay Lightning in the second round. The Panthers scored just three goals in four games and were shut out completely in the deciding match.
Suddenly, the Presidents' Trophy-winning squad went from the elation of advancing in the playoffs for the first time since 1996, to a team judged as a huge disappointment. Things like interim head coach Andrew Brunette's future, which seemed so clear just a few weeks ago, have immediately come into question.
The same could be said about Sergei Bobrovsky, the veteran netminder with a checkered (if not downright bad) history in the playoffs. No team can blame their goaltender when they score just three goals in a four-game stretch but given his contract, which extends through 2025-26 and carries a $10MM cap hit, Bobrovsky was still expected to do more than the .911 save percentage he posted in the playoffs. It doesn't ever help to be directly compared to Andrei Vasilevskiy at the other end of the rink, but given that he makes more money than the Tampa Bay netminder, some obviously will.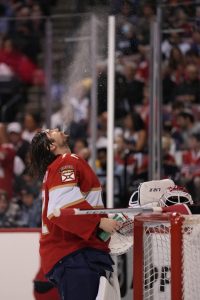 It's not really about whether Bobrovsky was to blame, though. Nothing can change that fact, and the Panthers still have the core of a Stanley Cup contender in place. The question now is whether the 33-year-old goaltender will be the one playing behind them next season, especially given the presence of top prospect Spencer Knight.
Because the team selected Knight 13th overall in 2019, Bobrovsky's name has been continuously thrust into trade speculation. But now with Knight pushing for more playing time and Bobrovsky's game still not back to the Vezina-winning level he found in Columbus, there's good reason for that speculation. Elliotte Friedman even spoke about how the Panthers did some work in that regard this year in the latest 32 Thoughts podcast for Sportsnet:
I suspect that they tried hard to trade him this year, or at least lay the groundwork to do it. I don't know if it's possible. I've heard they really worked on it. They really tried to see if it was possible. 
Even if the Panthers worked hard, a trade isn't really even up to them. Bobrovsky holds a full no-movement clause through the end of 2023-24. At that point, it would change to a 16-team no-trade list, meaning the team could potentially get out of the last two years. As of right now, anything would have to go through the veteran netminder.
Notably, the Panthers have quite a few pending free agents and a buyout penalty that jumps to more than $6.5MM for the 2022-23 season. Combine that penalty with the rising salaries of players like Aleksander Barkov and Carter Verhaeghe, and you have a team that is almost already right up against the cap ceiling for next season. Moving Bobrovsky would obviously alleviate that problem, though there is certainly no guarantee the team would actually improve.
While Knight is still one of the top young goaltending prospects in the world, it is not like he has absolutely dominated to this point. The 21-year-old had a .908 save percentage in 32 NHL games this season, and a .905 in 11 minor league appearances. While there isn't much doubt that he should become a legitimate NHL starter in time, the Panthers want to contend now with the in-their-prime core they have built.
This all leads to a very difficult summer for general manager Bill Zito and his front office, who has to make some tough decisions about the direction of the franchise.
Photo courtesy of USA Today Sports Images