March 18: On a live chat with followers today, Chris Johnston of NorthStar Bets explained that his understanding is the Senators' most recent offer to Paul was a four-year, $10MM contract. Paul is reportedly looking for something with an average annual value closer to $3MM.
Additionally, Bruce Garrioch of the Ottawa Sun reports that the Senators have made Paul a healthy scratch in advance of their matchup against the Philadelphia Flyers. He also reports that Paul is "expected to be moved" by the Senators shortly, in advance of Monday's trade deadline.
March 17: The Ottawa Senators aren't expected to be very active ahead of Monday's deadline, but one player who could draw plenty of interest if made available is Nick Paul. The versatile forward is a pending free agent that carries a cap hit of just $1.35MM this season and could add some punch to a team's bottom-six while also being an extension candidate wherever he lands.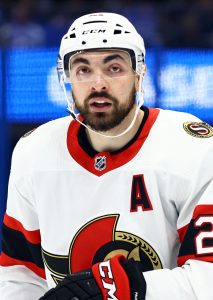 Why isn't he an extension candidate in Ottawa? That's not entirely clear, as though Paul had been open about wanting to stay with the Senators it does not appear as though much progress has been made on a contract. In fact, Elliotte Friedman of Sportsnet wrote today that there has been "not much movement" and David Pagnotta of The Fourth Period tweets there is "no progress" between the two sides. Pagnotta now expects Paul to be moved before the deadline.
The 26-year-old forward (27 on Sunday) has 11 goals and 18 points in 59 games this season but has been moved all over the lineup to fill whatever role is necessary. Deployed in heavy defensive minutes on the regular, he's spent more time at center this season than any year in the past and is averaging more than 17 minutes a night.
This certainly isn't a player that a contender would want to plug into the top-six, but Paul's grinding style does suggest that he would do well in a playoff atmosphere. That's not something he's experienced to this point in his career even in the minor leagues, meaning a chance at joining a contender might even be something he welcomes at this point.
With Thomas Chabot now out with a broken hand and Jake Sanderson's debut with the Senators likely delayed, the stretch run in Ottawa is getting grimmer by the day. Already the team has won just five of their last 18 games and could be looking at an even worse period without their top defenseman. If an extension isn't going to get done, getting a draft pick for Paul seems to be the obvious move for general manager Pierre Dorion.
Photo courtesy of USA Today Sports Images