The Nashville Predators sit firmly in the first wild card position in the Western Conference, four points ahead of the skidding Vegas Golden Knights and five points ahead of their Central Division rivals, the Dallas Stars. In fact, Nashville is closer to the second-place St. Louis Blues than the Stars are to the, though Dallas does hold two games in hand. With that playoff spot in hand, it certainly would be surprising to see the Predators sell pending unrestricted free agent Filip Forsberg before Monday's deadline.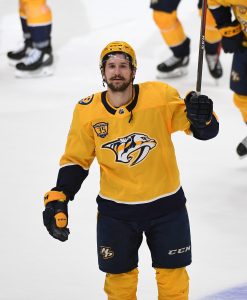 Perhaps it shouldn't be surprising then when Darren Dreger of TSN reports that the Predators have re-engaged in extension negotiations with Forsberg. The insider explains that just "marginal" progress has been made, though the team maintains the focus is on keeping Forsberg, not trading him.
Forsberg of course has been involved in a deadline deal before, one that impacted his entire NHL career to this point. In the spring of 2013, the now-infamous deal for Martin Erat (and Michael Latta) brought the young Swedish forward to Nashville less than a year after he was selected 11th overall by the Washington Capitals. In the decade since, he's racked up 210 goals in 545 games, including 32 tallies this season. That number puts him in a tie for ninth in the league, and in line for a huge contract, whether it comes with Nashville or not.
One of Predators' general manager David Poile's trademarks is signing players to long-term extensions for reasonable–but risky–cap numbers and the 27-year-old forward is one of his biggest wins. Signed to a six-year, $36MM extension in 2016, just before he became a restricted free agent for the first time, Forsberg provided years of excess value as one of the most reliable goal-scoring wingers in the league. Now, on the precipice of just his third contract, he's having the best season of his career and would likely be sought after by a huge chunk of the league this summer.
With that tempting experience just a few months away, it will certainly be difficult for the Predators to lock him up at this point. The team will undoubtedly need to offer a substantial raise on the $6MM cap hit he has carried so far, and the ink is just barely dry on Tomas Hertl's eight-year, $65.1MM contract extension that could shape this offseason's market.
In this case, at least, the Predators don't necessarily have to get a deal done before Monday's deadline. Like any other team that is adding rentals, keeping Forsberg for their own playoff run seems prudent. But deadlines in general have a way of speeding up negotiations, meaning perhaps there will be a decision one way or another before the weekend is through.
Photo courtesy of USA Today Sports Images