With the All-Star break now behind us, the trade deadline looms large and is now less than a month away.  Where does each team stand and what moves should they be looking to make?  We continue our look around the league with the Toronto Maple Leafs.
As has been the case for the past few seasons, the Toronto Maple Leafs are once again under immense pressure to buy at the deadline and finally make the jump out of the first round of the playoffs. The team has already made one move, adding defensive depth to the roster in the form of former Arizona Coyote Ilya Lyubushkin, but with some potential added cap flexibility due to defenseman Jake Muzzin's injury, general manager Kyle Dubas has the chance to make a bigger splash prior to March 21st.
Record
33-14-4, 3rd in the Atlantic
Deadline Status
Buyer
Deadline Cap Space
$4.47MM today, $4.47MM in full-season space, 1/3 retention slots used, 47/50 contracts used per CapFriendly
Upcoming Draft Picks
2022: TOR 1st, TOR 2nd, TOR 7th*
2023: TOR 1st, TOR 2nd, TOR 3rd, TOR 4th, TOR 5th, TOR 6th
* – if Brennan Menell plays 30 regular-season games for Toronto in 2021-22, the Minnesota Wild receive Toronto's 2022 seventh-round pick. Menell has yet to make his Leafs debut this season.
Trade Chips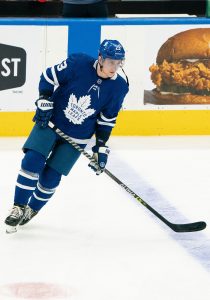 It's been widely reported that the team is reluctant to move their first-round pick this year or much of their top prospect pool. Taking that into account, it's likely that any trade package includes a body from their now-extremely deep defensive pool. The most appealing option for trade partners is likely Travis Dermott. The team's second-round selection in 2015 has been continually pushed down the depth chart by the emergence of Rasmus Sandin, but still has upside at 25 years old. He's consistently mustered solid defensive results, and increased opportunity could help unlock some more offense. He has just five points in 37 games this year.
There's also the matter of Justin Holl. He offers some cost certainty for teams, which is appealing — he's locked into a $2MM cap hit through the end of next season. But he's been prone to some egregious defensive mistakes this season, causing him to slip further down the lineup and become a healthy scratch at times. He does have experience playing top-four minutes, though, and does have a solid defensive track record throughout his short career. He still likely has some trade value.
Toronto also has a trio of young goalies in their AHL system in Erik Källgren, Joseph Woll, and Ian Scott. While the organization is high on Woll and would prefer to retain him, one of Kallgren or Scott could almost certainly be a part of a trade package. Källgren in particular likely carries some value, as he's posted a solid .909 SV% in 22 AHL games and was the netminder behind Växjo's run to the Swedish Hockey League championship in 2021.
Others To Watch For: F Alex Steeves ($834K through 2024), F Pontus Holmberg ($828k through 2023), D Mac Hollowell ($800k this year, $750k through 2023)
Team Needs
1) Wing Depth — Toronto has gotten impressive seasons out of free-agent wild cards Michael Bunting and Ondrej Kase, as well as Alexander Kerfoot and Ilya Mikheyev. But too much depth is never a bad thing, and the Leafs could use an upgrade to slot into the top-six, likely alongside John Tavares on the second line. Kerfoot's versatility allows him to slide back down to a third-line role with ease, helping create a better matchup game for head coach Sheldon Keefe come playoff time.
2) Potential Muzzin Replacement — The health status of Jake Muzzin for the playoffs remains uncertain, as he's on long-term injured reserve indefinitely as he recovers from his second concussion in a short timeframe. If Muzzin isn't ready to go, an experienced left-shot D-man (Mark Giordano?) could make sense, especially as to not put too much pressure on the shoulders of the young Sandin and Liljegren.
Photo courtesy of USA Today Sports Images