With the All-Star break now behind us, the trade deadline looms large and is just over a month away.  Where does each team stand and what moves should they be looking to make?  We continue our look around the league with the Philadelphia Flyers.
It's been an incredibly disappointing season for general manager Chuck Fletcher and the Flyers, who pushed in their chips during the offseason to acquire names like Cam Atkinson, Ryan Ellis, and Rasmus Ristolainen, only to be hit with sweeping injuries, inconsistent play, and fewer wins than anyone in the Metropolitan Division to this point. Fletcher has all but admitted that the playoffs are completely out of the question at this point, meaning the focus now turns to trade talks and more offseason changes. The captain is at the center of it all, though he controls his fate.
Record
15-24-9, 7th in the Metropolitan
Deadline Status
Seller
Deadline Cap Space
No base cap room, $2.89MM in full-season space with LTIR, 0/3 retention slots used, 49/50 contracts used per CapFriendly.
Upcoming Draft Picks
2022: PHI 1st, PHI 3rd, PHI 4th, PHI 5th, PHI 6th, PHI 7th
2023: PHI 1st, PHI 3rd, PHI 4th, PHI 5th, PHI 6th, PHI 7th
Trade Chips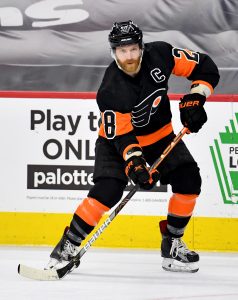 It all starts with Claude Giroux, who has been in the rumor mill for weeks (if not months or years) at this point. The 34-year-old is on the last season of his eight-year, $66.2MM contract and carries a full-season cap hit of $8.275MM. He also holds a full no-movement clause though, meaning if he's going somewhere other than Philadelphia for the first time in his career, he's the one that's going to approve it. A somber Giroux spoke to the media today about his future:
To be honest I haven't talked to Chuck yet about any of this. I'm sure we will at one point but right now I'm committed to this team.

The organization here has been great to me for the last 14 years. They've treated me the right way. I've had a chance to play with a lot of great players, had great coaches. I feel it is an honor to have been a Flyer this long. 
Giroux is just 12 games away from reaching 1,000 regular season contests in his career, a number that has been accomplished entirely with Philadelphia. He sits second all-time in games played for the Flyers, only trailing Bobby Clarke, and will reach 900 points with five more. As currently scheduled, Giroux would play his 1,000th game on March 17, just a few days before the trade deadline.
Beyond the captain though, there are some other interesting trade chips. Ristolainen and Keith Yandle both represent defensemen with offensive upside, though the former is injured at the moment and comes with a much higher cap hit. The Flyers have indicated they hoped to re-sign Ristolainen when they acquired him from Buffalo last summer, though obviously if that can't get done before the deadline he becomes a prime rental candidate.
Other veterans like Derick Brassard, Kevin Connauton, Martin Jones, or Justin Braun could also be on the move, if the team decides to sell everyone on expiring deals. There's also someone like James van Riemsdyk who has just one year left on his deal and could possibly bring back an asset if the Flyers decided to eat some money. In all, there are plenty of options for contenders to go shopping in Philadelphia, even if Giroux's price ends up being too high.
Team Needs
1) NHL-ready prospects: Despite it being a brutal season and the Flyers being obvious sellers, this isn't a roster that will suddenly enter a rebuild unless Fletcher completely strips it back in the summer. Atkinson, Ellis, Sean Couturier, Kevin Hayes, Ivan Provorov, Travis Konecny, and Joel Farabee are all signed to long-term, big-money contracts and are all still good enough (when healthy) to be difference-makers at the NHL level. It feels as though the team will try to reload in the offseason more than rebuild, meaning adding talent that is close to breaking through should be the first option. The fact that they have several young prospects on the brink (pun intended) of already making an impact means any addition in that age group could lead to a wave of success in the years to come.
2) Draft picks: And yet, draft picks could still be of a lot of use to the Flyers for a few reasons. Their prospect system doesn't need to be flooded with 18-year-olds but Fletcher and company could use some picks in the offseason to either a) get rid of a bigger contract or b) bring in NHL talent. When team chairman Dave Scott said he was handing the front office a "blank check" to fix things in the offseason, it suggested that they're not looking at a long rebuild. If you want to add, you need assets to do it. Those can be collected in the coming weeks, only to go back out the door in the coming months.
Photo courtesy of USA Today Sports Images