Jan 7: Rask's return to the P-Bruins will have to wait. The AHL has announced that games originally scheduled for tonight and Sunday will now be moved to April due to COVID-19 protocols affecting the Phantoms, meaning there are no Providence games until January 14 against the Hartford Wolf Pack.
The Maine Mariners, Boston's ECHL affiliate, play the Adirondack Thunder tonight, tomorrow and Sunday, so perhaps there is a chance that Rask sees action there instead.
Jan 6: After being rumoured this past week, unrestricted free agent goalie Tuukka Rask is officially on his way to making a comeback in Boston. The Bruins announced this morning that he's signed a professional tryout agreement with their AHL affiliate in Providence.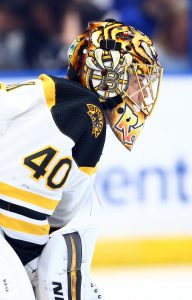 Rask will play his first AHL game in 13 years when he starts for Providence against the Lehigh Valley Phantoms tomorrow. His last season with Providence was in 2008-09, where he played in 57 games and posted a 33-20-4 record and .915 save percentage.
The 34-year-old Rask didn't sign a contract with the Bruins this offseason after he underwent hip surgery, which left his playing future uncertain. Once it became clear that Rask would be able to return to NHL hockey, the NHL granted Rask and the Bruins an exemption, allowing Rask to use the Bruins' facilities while unsigned to assist in his recovery.
His return casts some serious uncertainty over what the Bruins' goalie depth chart could look like, however. The plan always seemed to be, at least after signing Linus Ullmark to a big-money deal this offseason, that Jeremy Swayman would head down to Providence to make room for Rask as he doesn't require waivers.
That's a tough decision to make at this point in the season, though. Swayman's put up better stats than Ullmark this season and has received nearly equal usage, with Swayman putting up a .920 save percentage in 15 starts and Ullmark putting up a .917 in 14 starts.
It's a decision to make later, though. For now, Bruins fans and staff are happy to have Rask back with the team, and Rask is certainly happy to get one more shot, maybe his last, at a Stanley Cup ring.
When Rask eventually plays for Boston this season, though, it will be the return of a living legend to the Bruins crease. He's first in franchise history in terms of games played (560), wins (306), and save percentage (min. 50 games) (.921).
Photo courtesy of USA Today Sports Images