Jan 9: Kane has cleared waivers according to Chris Johnston of TSN. His contract will be terminated, though the NHLPA intends on filing a grievance on his behalf.
Jan 8: The Sharks are parting ways with Evander Kane as the winger is on unconditional waivers for the purpose of terminating his contract.  The team has released the following statement:
The San Jose Sharks have informed Evander Kane that he has been placed on unconditional waivers with intent to terminate his contract for breach of his NHL Standard Player Contract and for violation of the AHL COVID-19 protocols.
By taking this approach, the Sharks believe that they can get out of the rest of Kane's contract without any further money owed or cap hit charged.  But with $19MM in salary and signing bonuses owed over the next three seasons plus the remainder of a pro-rated $7MM salary this season, Kane will almost certainly be grieving this in the coming days once he goes unclaimed on Sunday. In fact, the NHLPA has already officially responded to the situation:
We are aware of the San Jose Sharks' stated intent to terminate Evander Kane's contract. The NHLPA intends to challenge any such action by filing a grievance.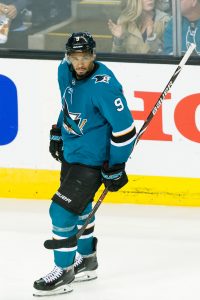 The 30-year-old had been the subject of multiple investigations in recent months, stemming from gambling and abuse allegations which were ruled to be unsubstantiated.  However, he received a 21-game suspension at the start of the season for using a fake vaccination card and after being cleared to return, was immediately waived and sent to AHL San Jose.  Kane was actually quite productive with the Barracuda, notching eight points in five games before testing positive for COVID in late December.  As Sportsnet's Elliotte Friedman reports, the reason for the release stems from a flight that Kane took during his isolation period as well as his return date to the team.
Players being on unconditional waivers during the season isn't anything new – it happens fairly routinely with players in the minors and teams agreeing to go their separate ways.  It's also used in the summer during buyout windows; there is no buyout window during the regular season.  But for a team to unilaterally use it to try to get out of a deal is much less common.  Tampa Bay did it with Jake Dotchin back in 2018 but he caught on elsewhere soon after and his grievance was settled ten months later.
The most notable time it was used was when the Kings did it with Mike Richards back in 2015 with the team saying he had committed a material breach of his contract, similar language to what San Jose used in their statement.  That one was also grieved and the two sides eventually settled on a payout of $11MM between 2015 and 2032 with Richards remaining on the Kings' books through that time at varying rates but well below the original $5.75MM AAV.  On the surface, it would appear that the Sharks could be trying to go a similar route here with any possible settlement being amortized over a long enough period of time to make the cap situation much more desirable than it had would have been if they continued to keep him on the books.  Worth noting, back in 2015, Friedman noted that the NHLPA received assurances that Richards' situation wouldn't be considered as a precedent which is something Kane and his camp will certainly be pointing out.
While they will proceed with the termination on Sunday, this situation is almost certainly far from fully being settled.  In the meantime, Kane will technically become an unrestricted free agent upon his release.  If he signs before the March 21st trade deadline, he will be eligible to play in the playoffs while if he doesn't find a new team right away, he would be eligible to play in the Olympics next month.
Sportsnet's Elliotte Friedman was the first to report Kane was on unconditional waivers.
Photo courtesy of USA Today Sports Images.