The Anaheim Ducks are one of the teams in the NHL still without a full-time general manager. After Bob Murray's resignation earlier this season, Jeff Solomon is working as an interim GM, though he's also a candidate in their current search. That search has reached the interview stage, and whoever is eventually selected for the position will have some difficult decisions to make.
The Ducks woke up yesterday on a four-game losing streak and had won just twice since Christmas. That stretch had erased much of the early season success the team had experienced and meant they were unable to pull away from some other Pacific Division teams that had also been through recent struggles.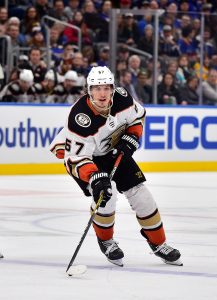 In his column yesterday, Pierre LeBrun of The Athletic wrote that no decision had been made on what direction the Ducks will take at the trade deadline. The team has some of the most impressive rental options in the league should they decide to sell them, including Rickard Rakell, Hampus Lindholm, and Josh Manson.
If Anaheim is waiting to see what kind of performance they have over the next several weeks, they certainly got off to a good start. The Ducks picked apart the defending Stanley Cup champion Tampa Bay Lightning, defeating them 5-1 on the back of a strong performance from John Gibson.
That's the kind of game that makes the Ducks' deadline strategy so interesting. At times, they've shown an ability to compete with the best teams in the league, relying on a strong defense, exceptional goalie, and forward group dotted with impressive young talents. Trevor Zegras, the club's uber-skilled sophomore, will be at the All-Star Weekend to show off his hands and creativity in the Breakaway Challenge despite not being selected for the actual game.
But there is also real value in selling off some of those expiring contracts, especially if further negotiations aren't going to happen in the next few months. Extensions for all three would seem unlikely at this point, though LeBrun does write that he guesses the team will circle back to Manson at some point.
When considering the future of the Ducks, Zegras, All-Star Troy Terry, top prospect Mason McTavish, and rookie blueliner Jamie Drysdale stand out as the main pieces to build around. In fact, only Cam Fowler and Gibson are signed past the 2023-24 season, meaning whichever candidate lands the GM job will have the flexibility to shape the entire roster. That shape starts with the decision of whether to buy or sell at this deadline, a decision that could have ripples for years to come.