The Arizona Coyotes were always going to be at the middle of the trade deadline hot stove as they continue their scorched earth rebuild, but it was originally assumed that Jakob Chychrun wouldn't be included in that teardown. The 23-year-old defenseman is signed to a long-term, reasonable contract and is still obviously young enough to help the club when they're ready to compete for the playoffs again.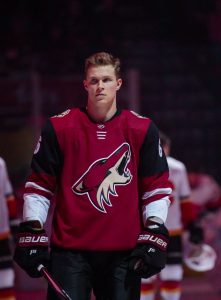 It turned heads when Chychrun's name hit the rumor mill last month, but the ask was called "massive" by multiple reports. There's now some clarity on what massive means, as Sportsnet's Jeff Marek explained on Hockey Night In Canada:
What the Coyotes are looking for is a young player, a high-end prospect plus a first-round pick. Teams we believe that have the assets who could do that and might be interested, include the Los Angeles Kings, perhaps the St. Louis Blues and certainly the Anaheim Ducks–who might be losing Hampus Lindholm to unrestricted free agency at the end of the year. 
Marek also indicated that as many as ten teams have already reached out on Chychrun and likened the potential return to the one that the Minnesota Wild received for Brent Burns in 2011. That deal saw Devin Setoguchi (then a 24-year-old coming off his third straight 20+ goal season), Charlie Coyle (the 28th overall pick a year earlier), and a 2011 first-round pick go to Minnesota from the San Jose Sharks.
Chychrun is averaging nearly 25 minutes a night for the last-place Coyotes this season, and though he is obviously not having a good year there is a lot to like about the left-shot defenseman. Selected 16th overall in 2016 he has already racked up 128 points in 316 career games and possesses the kind of size-skating combination that teams fall in love with.
Even with the defense market potentially getting a name like John Klingberg added in the coming months, Chychrun is a prize that almost every team in the league could be interested in, even those out of this year's playoff race. Signed through the 2024-25 season he carries a cap hit of just $4.6MM and would step into almost any top-four with ease.
Photo courtesy of USA Today Sports Images