2021 was certainly another eventful year, both on and off the rink.  Over the coming days, PHR will take a look back at the top stories from around the game on a month-by-month basis.  Next up is a look at June.
Good Month For Brind'Amour: June was a good month for Hurricanes bench boss Rod Brind'Amour.  First, he took home the Jack Adams Award for Coach of the Year for the first time in his career.  Then, he landed a three-year contract to stick around as head coach in Carolina.  It's a process that curiously took a long time to play out with Brind'Amour stating he wanted to ensure his staff remained as well which resulted in him delaying until those deals were done before signing his.  While the exact price of the contract wasn't disclosed, it was widely suggested that Brind'Amour accepted a deal that was considerably below market value for someone considered as one of the top coaches in the league.
Internal Promotions: A pair of teams decided to promote from within to fill their head coaching vacancies.  With Columbus set to embark on a rebuild, they decided against going after a veteran head coach, instead handing things over to Brad Larsen.  Larsen has plenty of familiarity with the franchise having served as an assistant with them since the 2014-15 season.  Just before the end of the month, Buffalo's extensive coaching search came to an end with nothing changing; instead of looking elsewhere, they opted to lift the interim tag off Don Granato who had taken over down the stretch following the firing of Ralph Krueger.  Buffalo was better over the final few weeks of the season, giving them some cause for optimism that Granato would be a good fit in the full-time role.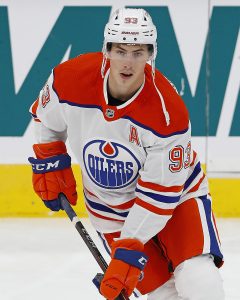 Sticking Around: The future of Oilers center Ryan Nugent-Hopkins had been speculated about for a while with the team being unlikely to be able to afford to pay him market value to stick around.  In the end, they reached a compromise, agreeing on an eight-year, $41MM contract.  The $5.125MM AAV is certainly below what he could have landed on the open market but at the same time, the eight-year commitment gives him plenty of security while Edmonton actually has him on their books at a cheaper price than his previous contract.  The top pick back in the 2011 draft has spent his entire 11-year NHL career with the Oilers, picking up 504 points in 686 games.
More Coaching News: Two other teams also filled their coaching vacancies but looked outside the organization to find their new bench boss.  The Rangers had been linked to Gerard Gallant as soon as David Quinn was dismissed and they were able to get their guy, signing him to a four-year deal worth roughly $3.5MM per season.  Gallant has had success recently with both Florida and Vegas but curiously didn't last too long with either organization, being dismissed in his third season with each squad.  Meanwhile, Seattle hired their inaugural head coach and it was one that largely flew under the radar in Dave Hakstol.  While there were several candidates discussed as likely fits for the Kraken, the former Flyers head coach wasn't really one of them.  Nevertheless, GM Ron Francis felt that Hakstol – who had been with Toronto as an assistant – was the right fit for the expansion squad.
Sabres Win: Buffalo didn't win a whole lot in 2020-21 – just 15 times in 56 games, in fact – but they picked up a key victory when they won the draft lottery.  It marked the second time in four years that the lottery balls fell their way and after picking Rasmus Dahlin the first time, they went with a defenseman again, selecting Owen Power in July as expected.
Photo courtesy of USA Today Sports Images.