The Edmonton Oilers have worked things out with one of their key unrestricted free agents, signing Ryan Nugent-Hopkins to a new eight-year contract. The deal will total $41MM, meaning Nugent-Hopkins will actually see his cap hit decrease to $5.125MM for 2021-22 and beyond. The deal also includes a full no-movement clause, meaning the Oilers will be required to protected Nugent-Hopkins in the expansion draft. Pierre LeBrun of The Athletic tweets out the full breakdown:
2021-22: $5.0MM salary
2022-23: $5.25MM salary
2023-24: $6.25MM salary
2024-25: $6.25MM salary
2025-26: $4.0MM salary + $2.0MM signing bonus
2026-27: $2.25MM salary + $2.5MM signing bonus
2027-28: $2.5MM salary + $1.25MM signing bonus
2028-29: $ 3.75MM salary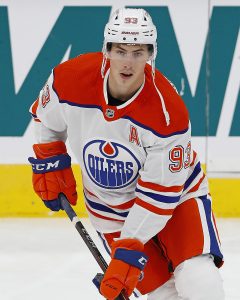 There was an obvious compromise in these negotiations, with the Oilers handing out a maximum-term contract in exchange for a smaller cap hit. There's no doubt that Nugent-Hopkins could have secured a higher AAV on the open market, but with a deal like this, he'll be able to spend most, if not all of his career in Edmonton.
The 28-year-old forward was the first-overall pick in 2011, selected just ahead of Gabriel Landeskog and Jonathan Huberdeau in what has turned out to be quite the impressive draft class. While other names like Nikita Kucherov and Johnny Gaudreau from outside the first round have found a little more success, it's certainly not like Nugent-Hopkins was a bust. In 656 NHL games, all played with the Oilers, he has scored 185 goals and registered 478 points. A 20-goal, 60-point season has become routine, even if his ceiling has never been as high as some hoped.
Of course, it's the lack of playoff success that will haunt everyone in Edmonton if this group can't make significant progress in the next few years. In his decade with the team, Nugent-Hopkins has played in just 21 postseason games, and four of those came in last year's bubble qualification round. He has just three goals in those 21 matches and has won just a single round.
That's exactly why the lowered AAV was a desirable outcome for the Oilers, even if it does take Nugent-Hopkins deep into his thirties. The Oilers need to immediately surround Connor McDavid and Leon Draisaitl with as much talent as they can, something that will be a little easier now. Nugent-Hopkins' last contract carried a cap hit of $6MM over seven seasons, meaning even the total of this one is slightly lower.
Overall, it's a nice contract for both parties and will likely keep one of the team's key forwards in Edmonton for the better part of his career. Oilers GM Ken Holland now has several other extensions to work on, including pending UFA defenseman Adam Larsson.
Ryan Rishaug of TSN broke the details of the contract earlier today. 
Photo courtesy of USA Today Sports Images