2021 was certainly another eventful year, both on and off the rink.  Over the past few weeks, we've taken a look back at the top stories from around the game on a month-by-month basis.  We wrap things up with a look at December.
Changes In Vancouver: After a disappointing start to their season, the Canucks opted to clean house.  Head coach Travis Green was let go with veteran bench boss Bruce Boudreau taking over.  The hope was the change would give them a spark and it's fair to say it did as they're 10-3-1 since then.  Meanwhile, GM Jim Benning was also fired with Jim Rutherford joining Vancouver soon after.  However, he's not in his usual GM role but is instead president of hockey operations.  Their search for Benning's permanent replacement continues.
Fabbri Sticks Around: Red Wings winger Robby Fabbri could have been an intriguing trade candidate closer to the trade deadline as a rental player.  Instead, he's off the market after inking a three-year, $12MM contract extension.  After struggling towards the end of his time with St. Louis, Fabbri has become a reliable secondary scorer for Detroit, reaching the double-digit goal mark in his first three seasons with the team and has a shot at hitting the 20-goal plateau this season, a target he has never reached.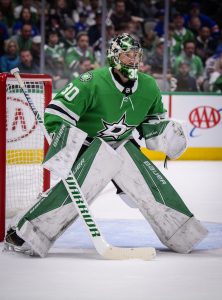 Bishop's Career Ends: After missing all of last season due to knee trouble, Stars goaltender Ben Bishop was hoping to return this year.  He practiced regularly with Dallas at the start of the season and got to the point where he was ready to test things out on a conditioning stint in the minors.  Unfortunately, that didn't go well and soon after, it was revealed that Bishop's playing days have come to an end as he'll remain on LTIR for the duration of his contract which runs through next season.  His playing days end with 413 games played for five different teams while he was a three-time Vezina Trophy finalist and posted a 2.32 GAA along with a save percentage of .921 and 33 shutouts.
Coaching News: Vancouver wasn't the only team to change coaches as the Flyers parted ways with veteran bench boss Alain Vigneault and assistant Michel Therrien after a slow start to their season.  Mike Yeo, who had been serving as an assistant, has taken over on an interim basis.  The Jets also made a coaching change although it was one initiated by Paul Maurice who surprisingly resigned partway through his ninth season with the team.  He had been the second-longest tenured coach in the NHL prior to his decision, one that was made as he felt a new voice was needed and that he had led Winnipeg as far as he could.  On the other end of the spectrum, Minnesota has been quite pleased with Dean Evason's performance as head coach and he was rewarded for his efforts with a multi-year contract extension.  Now in his third season in that role, the Wild have played to a 65-30-8 record under his tutelage so far.
Out Of Olympics: The enthusiasm for NHL players going to the Olympics was short-lived when the league jointly announced with the NHLPA that they were officially withdrawing from Olympic participation.  The announcement came as little surprise as a result of the league having to postpone so many games due to COVID-19 positive tests and attendance restrictions so the drought of a true best-on-best tournament continues.
Photo courtesy of USA Today Sports Images.