The end of November brought forth some notable news around the NHL which is highlighted in our key stories of the week.
Five For Biting: Kings winger Brendan Lemieux was hit with a record-setting suspension, receiving a five-game ban for biting Senators winger Brady Tkachuk.  The previous high for a suspension for biting was three games.  The league's ruling was limited to the initial occurrence although they acknowledged that there was circumstantial evidence that it may have occurred more than once.  Lemieux has sat the first two games of the suspension and won't be eligible to return until Saturday against Minnesota.
Khudobin Available: With Dallas having a capable tandem between the pipes in veteran Braden Holtby and youngster Jake Oettinger plus Ben Bishop working his way back towards returning, Anton Khudobin appears to be the odd one out as he has reportedly been made available.  It was only two seasons ago that the 35-year-old led the league in save percentage at .930, albeit in only 30 games but since then, his performance has gone in the wrong direction.  Through his first seven appearances this season, Khudobin has a 3.73 GAA with a save percentage of just .873 which certainly won't help his trade value.  He's in the second season of a three-year deal with an AAV of $3.33MM which won't be easy for many teams to take on without offsetting money the other way.  Of course, the Stars need to clear the full contract to get closer to being able to afford to activate Bishop so it may take a while for a trade to materialize.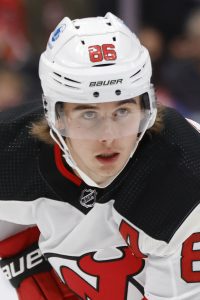 Hughes Extension: On the ice, it hasn't been a fun season for Devils center Jack Hughes.  A shoulder injury has limited him to just five games so far although he was able to return to the lineup on November 30th.  Of course, the bigger news for him and New Jersey on that day is that the 20-year-old signed an eight-year, $64MM contract extension.  The first overall pick in 2019 has just 56 career points in 122 games so there is definitely some risk on the part of the Devils.  However, if he progresses into the top-line center as they believe he will, it's a contract that should be a team-friendly one by its conclusion.  The deal buys out his first four seasons of UFA eligibility and those years also carry a 10-team no-trade clause.
DeBrusk Wants Out: Off to another tough start with Boston, winger Jake DeBrusk is hoping a change of scenery could get him going and he has asked for a trade.  The 25-year-old scored 62 goals in his first three NHL seasons which earned him a two-year, $7.35MM deal that carries a $4.85MM qualifying offer this summer.  However, since then, he has scored nine times in 61 games which has resulted in him dropping down the depth chart, putting him in danger of being non-tendered in the process.  Despite his struggles, there has been considerable interest so the Bruins will have some options.  That said, his cap hit will make it tough to make a move happen without them retaining or taking a contract back.  The holiday roster freeze begins on December 20th so there is some time for GM Don Sweeney to try to get a move done before the holidays.
Changes In Vancouver: The Canucks have cleaned house, firing head coach Travis Green, assistant coach Nolan Baumgartner, general manager Jim Benning and assistant general manager John Weisbrod. Bruce Boudreau will take over behind the bench, while Stan Smyl will serve as interim GM. Boudreau has coached nearly 1,000 career NHL games with the most recent coming with Minnesota in the 2019-20 season and will be tasked with getting Vancouver back on track in a season where they have struggled considerably early on.  He will receive a two-year deal that matches the length of Green's contract.  He departs the Canucks after parts of five seasons behind the bench with a 133-147-34 record and one playoff appearance. Benning meanwhile had been with the team since 2014 and had made the playoffs just twice in his eight years at the helm. Things have gone considerably downhill since the 2020 bubble, with the team finding themselves near the bottom of the league standings this season.
Photo courtesy of USA Today Sports Images.