The New Jersey Devils have locked up the potential face of their franchise, signing Jack Hughes to an eight-year extension that will kick in next season. The deal comes just as Hughes is set to return to the lineup tonight after a long injury layoff. The $64MM contract will carry an average annual value of $8MM, making him the team's highest-paid forward and locking him up through the 2029-30 season. Hughes was set to become a restricted free agent for the first time next summer.
PuckPedia reports that the deal will include a 10-team no-trade clause in the last four years of the deal. The full breakdown is as follows:
2022-23: $7.0MM salary + $2.0MM signing bonus
2023-24: $8.5MM salary
2024-25: $8.5MM salary
2025-26: $8.5MM salary
2026-27: $8.0MM salary
2027-28: $7.5MM salary
2028-29: $7.0MM salary
2029-30: $7.0MM salary
General manager Tom Fitzgerald released a statement explaining his excitement over the contract:
Today is a big day for the New Jersey Devils. This contract shows the commitment Jack and his family have made to us, and how the organization- myself, David Blitzer and Josh Harris- are in turn committed to them. We are building something unique and special here, with Jack being a core piece of that. This is just the start of where we believe we can go with this organization, as we work towards sustained success for years to come.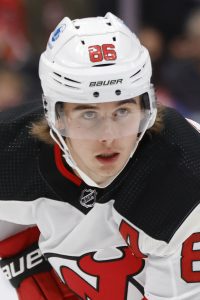 Selected first overall in 2019, Hughes has slowly developed through his first two years in the league, surrounded by a young, inexperienced roster and seeing his fair share of struggles. There was little doubt he entered this season as an improved player, however, and he showed it with his two-goal performance (including the overtime winner) in the Devils season opener. He had another assist in his second game before injuring his shoulder, which has kept him out since October 19 and limited him to just 26 minutes of ice time so far this season.
That all changes tonight when Hughes returns, now with not only the burden of draft expectations but now with those of a huge contract as well.
A member of one of an incredibly popular hockey family, which includes older brother Quinn Hughes, a star defenseman for the Vancouver Canucks, and younger brother Luke Hughes, who was selected fourth overall by the Devils this year and is currently playing at the University of Michigan, Jack Hughes has a skillset that could lead to huge results for the Devils in the long run. While he had just 21 points in his rookie season, he came back as a teenager last year to put up 31 points in 56 games, including 10 in his last 14.
While the projection of his ceiling is still sky-high, there's obviously also a ton of risk in a contract like this for the Devils. Yes, Hughes could outperform an $8MM ticket as soon as next season, but he also could very well settle in below the true top-line options in the league and suddenly be a bit of an overpayment. The fact is that he hasn't delivered that kind of production yet, even if his talent and upside are so obvious.
For a team like the Devils though, who only really have two other long-term commitments–captain Nico Hischier and free agent signing Dougie Hamilton–a deal like this isn't going to cripple them even if he struggles moving forward. They're paying for what should be Hughes' entire prime and locking it in to avoid any distractions in the future. If the league's revenue recovers to a point where the cap ceiling increases down the road, this deal could look like even more of a bargain, given it keeps Hughes in New Jersey for four unrestricted free agent years.
The pressure is on now for Hughes, who will start on the wing this evening but is still projected to be a center long-term for the Devils. That positional decision could be a huge factor in whether this is deal ends up a bargain or a blunder, as Hughes would hold so much more value if he can continue to line up in the middle of the ice.
This move also clears the deck for the Devils front office to focus on some of the other restricted free agents this summer, without having to wonder how much Hughes' deal will come in at. Jesper Bratt, Pavel Zacha, Miles Wood, and several others are set to hit RFA status, meaning some more multi-year deals may be coming down the pipe. A team that's just turning the corner on their rebuild, New Jersey is now 9-6-4 and focused on competing all season long in the Metropolitan Division.
Kevin Weekes of ESPN was first to report that a deal was close between Hughes and the Devils. 
Photo courtesy of USA Today Sports Images