Topics in this edition of the PHR Mailbag include Detroit's back end, what Tomas Hertl's next contract could look like, Toronto's roster composition, under the radar minor leaguers who could make an NHL impact over the next few years, and a note on teams who may have needed financial help last season.  If your question doesn't appear here, check back in last weekend's mailbag.
Johnny Z: Filip Hronek was healthy scratched for two games. He has been the Wings' leader in TOI for two years and logged big minutes for the first four games. Is Stevie about to trade him? It seems plausible as his value seems very good and has three years left on his deal.
Benching a player at this time of the season is rarely for a trade.  A few days before the trade deadline, sure, it's protecting the asset but in the first few weeks, it's to send a message.  Obviously, Jeff Blashill wasn't overly impressed with Hronek's play and decided to get that point across early on.  It seems to have worked as Hronek has been better since coming back.
You're absolutely correct in that he would have a lot of trade value.  Few others on their team have the type of value that Hronek does.  But at the same time, he's someone that should be viewed as part of their future core.  On the back end, Moritz Seider looks promising, but he's about the only one other than Hronek on the current roster that plausibly has a shot at being an impact piece when they come out of their rebuild.  (Gustav Lindstrom could factor in as well but as more of a depth player than an impact one.)  With that in mind, they should be looking to hold onto Hronek.
YzerPlan19: With the hole on the right side in LA and the ton of young assets they have could the Kings be a potential trade partner?
The fit that I see isn't one that would yield one of those young assets.  Hronek and Seider aren't moving.  Lindstrom is too young to be moved just yet.  That takes three of the four righties on the NHL roster off the table.
Then there's Troy Stecher, a player who has felt like a placeholder from the moment he signed with the Red Wings.  He's someone that can play on the second pairing if needed or be a minute-eater on the third pairing.  That's more of what the Kings are looking for to replace Sean Walker (since they can't do a lot to replace Drew Doughty as he's expected back six weeks or so from now).  He's a rental and at $1.7MM, he's cheap enough that it would leave them enough wiggle room to afford to recall someone from the minors into the rest of Walker's LTIR space.  The on-ice fit is there and the cap fit is there.
But here's the thing.  The return isn't going to be overly significant.  I don't think he'd land a second-rounder at the deadline so that sort of sets the baseline of a third-rounder or equivalent prospect here with maybe a late pick tacked on.  That's not the type of young asset you may have been hoping for but if they want to give Lindstrom a longer look, it's a move that is probably worth making from Detroit's perspective.
mz90gu: What kind of contract can Hertl expect?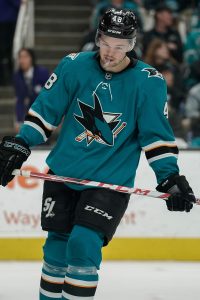 This is the type of question that should probably get its own article at some point closer to free agency.  Hertl has a lot going for him – he'll only be 28 (so a max-term deal is realistic), he plays a premium position that is in high demand and short supply, and he's played around a 70-point pace for the last few years.  That's a great combination to have heading into a walk year.
At first glance, I think Sean Couturier's extension with Philadelphia is the ballpark of where Hertl's deal will fall.  They're a year apart age-wise and have produced at similar extrapolated numbers over the past few seasons.  Couturier has a Selke Trophy which Hertl doesn't (and won't get) so it's not a perfect comparison but he's going to get a premium if he makes it to the open market.
Couturier signed for eight years and $62MM, a $7.75MM AAV.  I think Hertl's range sandwiches that amount, falling between $7.5MM and $8MM.  If he re-signs with the Sharks, the ability to add an eighth year to the contract could push the cap hit towards the lower part of that range.  That said, making the cap situation work with a raise like that will be easier said than done for GM Doug Wilson.
KAR 120C: Odds that Dubas either trades one of his four or loses his job. As a result of putting 50% of the cap into four players and it not working out well (imho).
@Darrell_Samuels: 'Simple' question – how do you fix the Toronto Maple Leafs?
I'm going to combine these as the answers sort of go together.
Dubas will eventually lose his job – all general managers do; it's part of the business.  So I'm going to put odds on one of those things happening this season.  I'll set it at around 10%.  I don't think Toronto will move one of their 'core four' up front during the regular season and it's difficult to move big contracts for full value in-season.  And unless things fall completely off the rails over the next couple of months, there probably isn't going to be an in-season GM change either.
A lot depends on whether they can get out of the first round.  That's the barometer for success this year; numbers during the regular season aren't going to matter if they're quickly bounced again.  Before the season, I predicted they'd win a round so I'll stick by that and if that happens, Dubas will likely stick around.
But since these questions came out, Morgan Rielly signed his new deal, one that puts another big contract on the books.  I'm not sure they should try the same approach of rounding out the roster with a bunch of low-cost deals and hoping that the end result is different this time but it's not as if they have a lot of options as their top two centers aren't being moved.
It sounds a little counter-intuitive to say that moving a top forward is how to fix things but with how their cap is structured, it's the only way to really change things; swapping sub-$1MM players isn't going to move the needle much.  If Mitch Marner is moved for a top-six winger making half as much as he is plus some futures, there's the cap space to keep Jack Campbell and maybe have a bit left over to put towards upgrading one of their cheaper forwards.  If they want to risk going with Petr Mrazek as the full-fledged starter and go cheap on the backup goalie, then the Marner move would give them a chance to add another middle-six piece to deepen the roster and a bit more quality depth up front.
Long term, their hope is that players like Nicholas Robertson, Rodion Amirov, and maybe someone like Alex Steeves can come in and play a regular role and lengthen the lineup.  At that time, that extra offensive depth could push them over the proverbial hump; at least, that's the plan.
Is that truly fixing things though?  Not really but they've made this commitment and it's a hard one to get out of.  If Auston Matthews decides to walk in free agency in 2024, that would be the next opportunity to dramatically change the shape and structure of the roster.  Until then, they either stick with their current direction or move a winger to give themselves a bit of wiggle room to fill other areas of the roster.  If I had to guess right now, I'd lean towards sticking with the current plan so I'd put the odds of moving a winger at 45% or close to a coin flip.  The next few months will be interesting on that front.
The Duke: Dear Mailbag Crystal Ball: I am in need of some can't-miss, future scoring stud prospects for my keeper league and would like you to list 4-5 "unknowns" who are still in the minors but maybe not spoken of much (no more than 2-3 years away; please include your Top-2 D-man prospects as well). As always, much appreciated.
While I suspect you're probably aware of some of these AHL players already, hopefully the Crystal Ball put out at least one name that wasn't already on your radar.  It's hard to put these players as can't-miss prospects though; very few get that distinction and those are all well-known already.  But all have legitimate NHL upside at the very least.
F Jack Dugan (Henderson – I'm a bit surprised he wasn't in the Jack Eichel trade, to be honest, as he felt like a viable secondary piece to include.  He's blocked in Vegas right now but with 36 points in 40 career AHL contests and a 1.21 point per game average at the college level, the 23-year-old is on the cusp of NHL duty and could jump in and pick up some points soon after being brought up.
F Anatoli Golyshev (Bridgeport) – At 26, there isn't a lot of development time left for the winger.  He has produced at a decent rate in the KHL before this season and is off to a nice start in the minors this year with five goals in six games.  On a one-year deal and UFA status after that, the Islanders are going to have to give Golyshev a shot sooner than later.
D Jared McIsaac (Grand Rapids) – Lost in the injury troubles that he has dealt with is the fact that he was a productive point producer in the QMJHL.  His development has been delayed with his limited playing time the last couple of years but I could see him getting PP2 minutes in the NHL once he's up which gives him some offensive upside.
F J.J. Peterka (Rochester) – Some of Buffalo's other winger prospects garner more attention but I think Peterka has benefitted nicely from playing in men's leagues back home before making the jump to North America this season.  He has done nothing but produce against similar-aged competition and having the longer professional background from the DEL will help him adjust quicker once he gets an NHL recall.
D Scott Perunovich (Springfield) – If it wasn't for St. Louis' tight cap situation, he'd probably be up already.  Perunovich didn't play last season due to injury but he was nearly at a point per game average in his college career and is lighting up the AHL early on with 13 points in seven games so far.  He probably isn't going to be a top-pairing NHL rearguard but there will be power play time when he's recalled and with it, a chance to put up some points.
Gbear: With it known that the league has had to help some teams financially get through the past two seasons, do you think that they've placed spending caps on those teams?
First, let's look at what was available to teams last season.  The league raised a $1B credit facility where teams could draw up to $30MM if necessary, per the Sports Business Journal.  It's unknown which teams took advantage of it and to what level they used it.
Unless there was some sort of special payback requirement placed on teams that accessed that money, I don't think the NHL has placed any sort of spending limits on them nor would they have the ability to do so.  As long as the basic terms of the repayment agreement are being made (and it's probably not all repayable within a year or two) then I don't think they've placed any spending limits on teams.  Some have internal budgets but given the recent spending history of some of those teams, it's hard to place any correlation between that and the possibility that they're among the franchises who might have accessed the credit; some of those were probably aiming to spend well below the cap anyway.
Photo courtesy of USA Today Sports Images.