Training camp is already well underway and we're now less than two weeks from the start of the regular season. Things are heating up all around the league, plus a few key restricted free agents finally sign.
Back To Work: The NHL's Department of Player Safety had to get back to work, suspending Ridly Greig of the Ottawa Senators and Dylan McIlrath of the Washington Capitals for preseason and regular season games. Notably, Greig was loaned to junior today, meaning whenever he's ready to start his NHL career he'll have to sit out a game.
More Investigations: When the NHL announced that Evander Kane had been cleared of any allegations related to gambling on his own games, they also indicated that he was involved in another investigation into "potential wrongdoing." The league then changed that press release, including an explanation that Kane was actually involved in two different new investigations. One of those, according to Elliotte Friedman of Sportsnet, had to do with a potential breach of COVID protocol. Kane remains away from Sharks camp for the time being.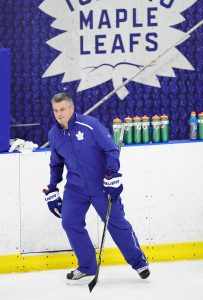 Atlantic Extensions: An executive that has won a pair of Stanley Cup championships and a head coach that hasn't won a playoff series each received an extension this week, as the Tampa Bay Lightning gave Julien BriseBois a multi-year deal and the Toronto Maple Leafs added two years onto Sheldon Keefe's contract. BriseBois was a dream candidate for several other teams but will stay with the powerhouse he built in Tampa for the time being. Keefe meanwhile is heading into his first 82-game season with the Maple Leafs and has plenty of pressure to get the team deeper into the postseason.
Waiver Bait: Nearly 100 players have been put on waivers since they opened on Thursday, with a few claimed by new organizations. The Montreal Canadiens have added Sam Montembeault as an extra goaltender, while the New Jersey Devils added some size by grabbing Mason Geertsen. With the season approaching even more players will be exposed in the coming days and could get their chance with a new team.
Breathe, Vancouver: The Vancouver Canucks can get back to preparing for the regular season with their full complement of talent, after signing both Quinn Hughes and Elias Pettersson to multi-year deals. Hughes landed a six-year, $47.1MM deal, while Pettersson is now on a three-year bridge worth $22.05MM. The team is tight to the salary cap now, but can easily get under the upper limit for the start of the season and now have everyone back together. Brady Tkachuk now sits as the only major restricted free agent without a contract.