Topics in this edition of the PHR Mailbag include Buffalo's rebuilding process, the pursuit of Jack Eichel from the Rangers and if Detroit should be in the mix, a proposed offer sheet, Nashville's underwhelming summer, under the radar breakout candidates, moves that general managers may one day wish they had a mulligan on, and where Ryan Dzingel landed in free agency.  If your question doesn't appear here, watch for it in next weekend's mailbag.
LarryJ4: What Adams has done with the Sabres roster seems to be geared towards clearing out the losing mentality of certain players would you agree? Complete reset so to speak and hear up a rebuild what he feels is the right way. The previous 2 GMs failed to bring in players that their character properly fit the "retool/rebuild" mode of a team. Granted the last one was brought in by Adams, being Taylor Hall, but that seems like a knee jerk reaction by Adams facing pressure from Ownership that appears clueless.
Second question is do you think Adams has the invisible "handcuffs" off of him this go around?
I don't know if I'd go as far as saying the rebuild is built on trying to clear out anyone with a losing mentality.  Everyone on the Sabres for an extended period has been through plenty of losing so it could be suggested they all have had that particular mentality ingrained in them over the years.
This feels like a situation where they finally realized that they're not just a player or two away from becoming contenders and trying to add that piece each year becomes futile after a while.  Their captain isn't coming back anytime soon, if at all, further pushing them in that direction.  In that case, selling off the players who were nearing unrestricted free agency was the logical next step.  Rasmus Ristolainen and Sam Reinhart probably weren't signing new long-term deals with Buffalo so they pretty much had to go.
As for the handcuffs, that's always difficult to speculate on as owners have differing levels of involvement throughout the league but this is the type of rebuild that requires ownership signing off on.  The fact that GM Keyvn Adams has made the moves he has made suggests he has received the commitment and green light to see this process through.
CoachWall: Now that we know Eichel is going to miss the first month or so, have the Rangers pivoted to re-upping Z-dad?
In the context of this question, I'm going to say no.  Not having Eichel available for the start of next season shouldn't drastically affect how much they want him.  He has five years left on his deal so missing 15-20 games at the start of that span shouldn't discourage them from going after him when the potential for four-plus years of a number one center is still there.
At this point, GM Chris Drury should be working both fronts.  He can keep inquiring on Eichel to see if the price will eventually change while at the same time doing his due diligence in terms of what it will cost to keep Zibanejad around; Eichel not being ready to start the year shouldn't push Drury down a path he should already be on.  Both aren't going to be doable but it doesn't mean discussions can't be done for both options at the same time so that the Rangers can make one of the two moves when the time is right.
gowings2008: The Red Wings lack a true number one center, is it possible they are secretly in on Eichel? He fits their core group in terms of age and the Wings have the cap space to fit him in. I know the Red Wings have rarely leaked any rumors under Yzerman, but this is an opportunity that rarely presents itself and they have the pieces, I would think, to make it work.
You make a very reasonable case for Detroit to go down this path and I agree that they probably have the assets to make a trade work.  But the timing doesn't feel right to me.
GM Steve Yzerman's offseason was all about adding bridge pieces.  Nick Leddy is someone that could be flipped later in the year, Alex Nedeljkovic only received a two-year deal that walks him to UFA eligibility (and there are questions about whether or not he can be an NHL starter) while up front, Pius Suter was the only addition of note, also receiving a two-year deal that takes him back to UFA status.  To drastically shift towards trying to win now runs counterintuitive to what they've done the last few months.
I'll put it this way.  If Detroit was in on Eichel, making a move before the draft would have been the right time to do it.  Then they'd have been more aggressive in terms of trying to add more proven win-now talent via trade and free agency and really emerge from the rebuild.  But if Yzerman still thinks they're a couple of years away from doing that (and his activity the last two months suggests that's the case), then the high cost to acquire Eichel would be a little harder to justify since he alone wouldn't make them a playoff team and there aren't any notable free agents left that they could try to add after landing Eichel.
I actually quite like the idea of Eichel in Detroit but I think the right time for that was two months ago, not now.
Robert Evans Jr.: Why doesn't Buffalo just offer sheet Sorokin for $4.11 million a year for five or six years to be the goalie of the future??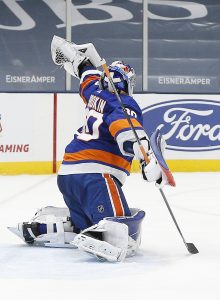 I'm glad you mentioned five or six years in the question as it gives me a chance to highlight a rule that often gets missed.  For offer sheet purposes, the maximum divisor is five, even if the term of the contract is longer.  Accordingly, while a five-year offer sheet at $4.11MM per year would yield a second-rounder, the six-year term would actually push him up a tier to the first-rounder plus a third-rounder.  The total compensation for that offer would be $24.66MM with the maximum divisor at five.  That means for offer sheet compensation purposes, his AAV would be $4.93MM (even though the AAV of the contract is still $4.11MM).
With that said, there are a couple of reasons that Ilya Sorokin won't sign that contract.  First, he would actually have to want to sign that deal to go to Buffalo and with the direction the Sabres are going, they're not exactly going to be a desirable destination for a little bit.  The second is that he probably has already agreed to terms with the Islanders as GM Lou Lamoriello has a whole bunch of deals done that haven't been announced yet.  The fact that Sorokin didn't file for arbitration feels like a strong sign that his contract is among those in place that we'll officially find out about at some point in the next six weeks.
Gbear: Rhetorical question, but how does subtracting Viktor Arvidsson and Calle Jarnkrok and adding Philip Tomasino and Cody Glass to an already paltry offense in Nashville improve their goal-scoring output?
Rhetorical or not, I'll answer anyway.  It really doesn't help them although with the way David Poile has built his team this summer, it sure looks like they're a team that's looking at some short-term pain (and salary savings) for long-term gain.
If they kept their core intact and still brought Glass in, we'd be talking about him playing in the minors and waiting for a recall.  By moving Arvidsson to the Kings and losing Jarnkrok to Seattle, now there's a defined spot on the third line for Glass for him to get a more consistent chance that he had with Vegas last season.  Considering Nashville's long-standing need for help down the middle, it only made sense to add someone like Glass if they had a chance to play him.
Tomasino looks like he's ready to contribute based on his play as an underager in the AHL last year.  I'm not as bullish on them seemingly keeping a roster spot for him as a 20-year-old but it certainly feels like they want to get his NHL experience started quickly in the hopes of expediting his development.
Are the Predators better now than they were last season?  Certainly not.  So if they're going to be rebuilding, they might as well get the youngsters some playing time in a role where they'll have a chance to succeed right away.  If the development of Glass and Tomasino (among other youngsters) next season is bolstered, the long-term improvement should outweigh the short-term drop in production that is certainly coming.
Nha Trang: There's always the 'Guy Who Comes Out Of Nowhere' to dish out the unexpected career year. Who are the best candidates for that this season?
For these types of exercises, a lot of it comes down to projecting the depth charts and looking for someone that's going to receive a much bigger role than he did the year before.  Here are two that come to mind.
F Alex Barre-Boulet (Tampa Bay) – He scored a lot in junior his last season, earning himself an NHL contract.  He then lit up the minors for two years.  Barre-Boulet has been limited to spot minutes so far but with the turnover Tampa Bay has had, there are opportunities for him to step into a bigger offensive role and history suggests he'll be capable of producing.  A jump in production is expected but I think many will be surprised by how big of one it will be.
F Tage Thompson (Buffalo) – It has been a rough few years since being traded to the Sabres and his role has largely been limited.  But as a result of some of the departures (and expected departures to come), there is a path to a top-six role for Thompson.  If he can earn that spot, he could go from someone that has been viewed as a bit of a bust so far to a capable secondary scorer with size in short order.
There are plenty of obvious breakout candidates based on young players continuing to progress or players finding a bigger opportunity in free agency but if you're looking for someone that's going to be a bit more under the radar and still make that jump, these two fit the bill.
Joe422: Looking back in a few years, who has buyers' remorse? It could be a free agent signing, an extension for their own player or a trade.
I'll limit myself to moves made in 2021 to avoid the low-hanging fruit like Jeff Skinner's extension.
On the free agent front, I don't think Seattle is going to like the Jaden Schwartz signing before too long.  He's not a primary scorer and hasn't done well in that role.  He's coming off a tough year and will now go into the role where he has struggled before with linemates that aren't as good as he had in St. Louis.  He'll put up some points but that contract could be an overpayment fairly quickly.
I also think the Kings may have buyers' remorse on Phillip Danault.  There's no denying he's a high-end defensive center but can he produce enough to justify that contract?  That I'm not so sure about.  Also, how long will he have the role that justifies a $5.5MM price tag?  He's not passing Anze Kopitar on the depth chart and they have Gabriel Vilardi, Alex Turcotte, Quinton Byfield, and Rasmus Kupari – all first-round picks – behind him.  At some point in the near future, they're going to push Danault onto the third line – the role he didn't want in Montreal which largely resulted in his departure – and in doing so, making the contract an overpayment.
On the trade front, the Oliver Ekman-Larsson trade is one that Vancouver may regret a few months into next season let alone a few years from now if his struggles from last season carry over.  Taking on that long term of a commitment with so many other young core players needing contracts between now and the end of the 2026-27 season when Ekman-Larsson's deal ends was a largely unnecessary move.  Sure, their playoff fortunes for next season are better but let's see who it costs them in the end.  Chances are, who they lose will be more impactful than what Ekman-Larsson will be able to provide at that stage of his career.
Then there's Seth Jones.  In a vacuum, adding him to Chicago's back end is a big help.  But they paid a big price to get him and a whopper of a price to extend him.  Short of him becoming a top-five defenseman in the league, the combination of asset price and contract cost isn't going to hold up particularly well down the road.  They certainly will get a big boost in the short term, however.
@roweron: Did the Sens take back Dzingel??
I wouldn't have been surprised had Ottawa re-signed Ryan Dzingel but he is off to the Western Conference.  His deal was among the ridiculously high number of signings on the opening day of free agency as he inked a one-year, $1.1MM contract with Arizona.  With the state of their depth chart, it's a reasonable choice for Dzingel who should have some more stability than he had throughout his time in Carolina as he looks to rebuild his value for another crack at the open market next summer.
Photo courtesy of USA Today Sports Images.