The New York Islanders have officially announced multi-year contracts for Anthony Beauvillier, Casey Cizikas, Kyle Palmieri, and Ilya Sorokin. Though they have not released any further information, some details had been previously reported. The deals are expected to be:
Beauvillier – 3 years, $4.15MM AAV
Cizikas – 6 years, $2.5MM AAV
Palmieri – 4 years, $5.0MM AAV
Sorokin – 3 years, $4.0MM AAV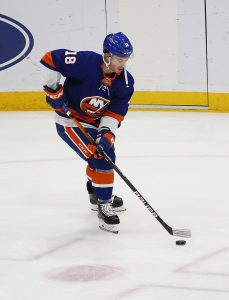 Beauvillier, 24, already has five full seasons under his belt in the NHL after being the 28th overall pick in 2015.  During that time he has been one of the team's most consistent offensive producers, racking up at least 15 goals and 28 points in each of the last four seasons. This year those totals were hit in just 47 games, giving him a strong 26-goal pace over a full 82-game season. While those numbers don't jump off the page, in an Islanders system that suppresses scoring on both sides, it represents a very important player.
In fact, Beauvillier was fourth on the team in goals this season and one of the players ahead of him, Jordan Eberle, is now a member of the Seattle Kraken. That means there will likely be even more offensive opportunities for Beauvillier moving forward, especially with a new $4.15MM cap hit in place. That number moved him into sixth among forwards on the New York roster until Palmieri trumped it with his $5MM AAV.
For Cizikas, 30, a six-year deal essentially buys out the rest of his career, given the physical, in-your-face style that he brings to the rink every night. That kind of play is exactly why he fits so well in the bottom of the Islanders lineup, but it's also not likely he could have secured that term elsewhere. The simple fact is that Cizikas can't really play up in a lineup, but that doesn't matter in New York where he is an essential part of their four-line structure. He's relied on for important faceoffs and gets pummeled with defensive zone starts, given one of the hardest deployments in the entire league. All of that leads to poor overall possession numbers and just a handful of points every year, but there's no doubt that the Islanders value him just as much as anyone else on their team.
Palmieri meanwhile is the newest member of the group, having only made his Islanders debut in April. He played 17 games down the stretch for the team after a midseason trade from the New Jersey Devils, and scored just two goals. It looked like that trade may have been a mistake until the moment the Islanders took the ice in the postseason, where Palmieri showed up and scored seven goals in 19 games. There's obviously a history between the 30-year-old forward and New York GM Lou Lamoriello, who originally traded for him in New Jersey, and this new deal secures the last big payday of Palmieri's career.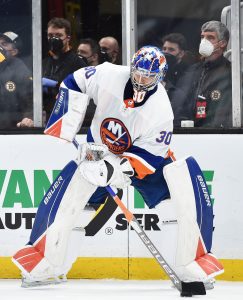 Overall, he is coming off his worst offensive season in some time, having scored just ten goals and 21 points in 51 games. Those numbers are a far cry from the consistent 25-30 goal man he had been over the previous five seasons, and it's that production that the Islanders are hoping to return. The thing about Palmieri, like basically every other player on the Islanders roster, is that he is also a capable defensive forward that drives possession at both ends of the rink. He fits perfectly into their structure and with a full training camp could very well become one of the team's most important players next season.
Speaking of important players, the 26-year-old Sorokin was an interesting case to follow this offseason. After a brilliant rookie season that saw him post a .918 save percentage in 22 appearances, he could have potentially filed for salary arbitration as an RFA. When he didn't, there was technically a possibility he could sign an offer sheet somewhere else, though that speculation was misguided from the start. A deal with the Islanders was likely signed some time ago, and Sorokin will now be locked up for three years at a reasonable amount. While he has just a handful of NHL starts under his belt, there's a much larger body of work to rely on when evaluating the 6'3″ netminder.
Selected in the third round in 2014, Sorokin stayed in Russia until 2020, playing season after season in the KHL. In fact, he completed seven full years at the professional level there, starting as a teenager and quickly becoming one of the league's most dominant goaltenders. There is little doubt that he can be a starting-level option in the NHL, which he proved once again with seven games in the postseason. Sorokin posted a .922 in those playoff appearances, a number he'll likely add to as this contract progresses.
At $4MM though, he actually still comes in below partner and friend Semyon Varlamov who will continue to take some of the load. The Islanders will be spending $9MM combined on their goaltending tandem, but it should be one of the best in the league.
Even with all of these new deals in place, the Islanders are expected to have more up their sleeves. Zach Parise and Travis Zajac for instance have also been linked to the team, though it's a complete guess as to when they would potentially announce those deals, if signed.
Chris Johnston of Sportsnet tweeted details on each contract.