The St. Louis Blues have locked up one of their best players, signing Colton Parayko to an eight-year extension. The new contract will start in the 2022-23 season and keeps Parayko in St. Louis through 2029-30. The big defenseman will carry an average annual value of $6.5MM on the new deal, which totals $52MM. Parayko explained just what made him sign now:
I can't wait to wear the Blue Note for another nine years. St. Louis has been my home now for six seasons, and this is where I want to be. All the relationships I've gained, the teammates I've had, and the organization have all had a big impact on me. Winning here in 2019 was special, and I want the chance to stay here and do that again.
Andy Strickland of Bally Sports Midwest provides the full breakdown:
2022-23: $7.25MM
2023-24: $8.0MM
2024-25: $8.0MM
2025-26: $8.0MM
2026-27: $6.35MM
2027-28: $4.8MM
2028-29: $4.8MM
2029-30: $4.8MM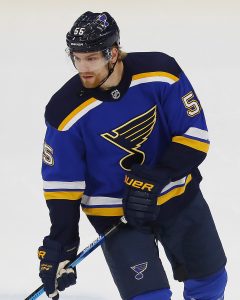 Parayko, 28, was entering the final season of a five-year, $27.5MM deal he signed in 2017 and could have become an unrestricted free agent next summer. The team seems to have created something of an internal cap, as his new deal will match the AAV of both Justin Faulk and Torey Krug at $6.5MM. That may actually represent a bargain for Parayko, though he hasn't quite taken the step forward that many expected over the last few seasons.
Standing an imposing 6'6″, the 2012 third-round pick has everything you want in an NHL defenseman. He's big, physical, can skate well, and has an incredibly accurate shot from the point. There's no doubting his value to the Blues, which was perhaps demonstrated best in 2019 when he averaged more than 25 minutes a night during the Blues Stanley Cup run. But there also hasn't been that giant leap offensively that some were expecting, with just 40 points combined over his last two seasons (96 games).
That's not to say it couldn't still happen, but Parayko appears to have settled in as a rock-solid top-four option, instead of a true number one defenseman. This deal represents exactly that, as he'll be paid quite a bit less than some of the other pending free agent defensemen that have re-upped this summer. Still, getting an eight-year term is huge for Parayko, who could very well ride this contract through to the end of his career.
He'll be 37 when the extension ends, which is where this contract brings plenty of risk for the Blues. Though he's an extremely important player right now and very likely could have received a higher AAV on the open market, they're going to be paying him as a top-four option throughout his decline phase and even into his late-thirties. That's the price you pay for extra flexibility now, when GM Doug Armstrong believes his team can still compete for the Stanley Cup.
In fact, when you consider that Krug (30) and Faulk (29) are heading into just the second year of their own seven-year deals, this is a blueline that is going to be testing the limits of the aging curve in the NHL. All three players are going to carry a $6.5MM well into their thirties, meaning the time is now to strike at a league championship.
The Blues now have nearly $70MM already committed to just 14 players for the 2022-23 season, though Vladimir Tarasenko's deal is still expected to be traded at some point. Armstrong went out and landed Brandon Saad and Pavel Buchnevich this summer to add to the group, pushing his chips to the middle even if a few years down the road might look a little more difficult.
Photo courtesy of USA Today Sports Images