The Buffalo Sabres have agreed to terms with star defenseman Rasmus Dahlin on a three-year contract that will carry an average annual value of $6MM. The young defenseman was a restricted free agent but was listed on the Sabres' training camp roster yesterday, suggesting a deal was coming soon. CapFriendly has the full breakdown:
2021-22: $3.0MM salary + $2.0MM signing bonus
2022-23: $5.8MM salary
2023-24: $7.2MM salary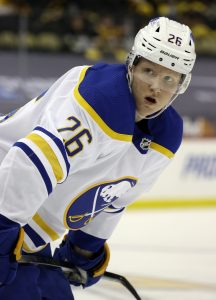 Dahlin, 21, certainly hasn't been a disappointment since being selected first overall in 2018, but he also hasn't been the franchise-changing savior that many Sabres fans were hoping for. The young defenseman stepped directly into the NHL and showed his offensive chops, recording 44 points in his rookie season and finishing third in the Calder Race, but has been dragged down–whether by his teammates or his own inconsistent defensive play–in his own end.
There's no doubt that Dahlin is one of the most dynamic puck-movers in the NHL, but even that offensive output dropped this season as the Sabres collapsed into a league bottom-feeder once again. A contract like this, which ties Dahlin for the 30th highest cap hit among defensemen this season, certainly doesn't leave room for a ton of surplus value unless he really gets back to the player he showed early on.
With no Rasmus Ristolainen in the fold now, Dahlin should take on even more responsibility for the Sabres. He heads into this season leading a defense corps that is made up almost entirely of pieces acquired through trade, some of them just cap dumps, and may have another difficult season as he waits for the help of Owen Power, the team's latest top pick. When he gets him, which by all accounts should be at the end of the upcoming season, Dahlin and the 2021 first-overall pick should form a dynamic duo for the Sabres to build around, each logging big minutes on the left side.
Even though this contract may actually be a bit on the expensive side–Zach Werenski, with comparable if not better numbers, signed a similar bridge deal that was worth just $15MM over three years in 2019–it's not really an issue for the Sabres who are fighting just to get to the cap floor. The team can certainly afford to pay Dahlin a little bit more to keep him in the fold while they go through another rebuild.
Photo courtesy of USA Today Sports Images