Late last night, the St. Louis Blues announced that they have agreed to terms with restricted free agent Robert Thomas, signing him to a two-year contract. The bridge deal will carry an average annual value of $2.8MM, and allows Thomas to join his teammates on Thursday when Blues training camp opens.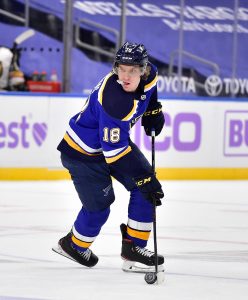 The 22-year-old forward took a pretty drastic step backward this season when he posted just three goals and 12 points in 33 games while seeing his playing time decrease to just over 13 and a half minutes a night. Once seen as a future second-line center, it's difficult to know exactly where Thomas will top out now after failing to really take that next step in the early part of his career.
Still, this two-year bridge deal gives him a chance to show that 2020-21 was the fluke and he can get back to (and exceed) the 42-point player he was the year before. A smart defensive player, he has struggled at times to generate offense for himself–incredibly registering just 22 shots in 33 games last season–and his linemates. In 169 career games, he has 22 goals and 87 points.
For the Blues, even if they believe in Thomas' long-term outlook, there was no way they could make this deal stretch further into the future. Every additional year would likely make the cap hit creep up, and the team is capped out at the moment while they continue to carry Vladimir Tarasenko on the roster. In two years, when this bridge deal is up, there will be a ton of money coming off the books for the Blues, as Tarasenko, Ryan O'Reilly, Oskar Sundqvist and Ivan Barbashev are all scheduled for unrestricted free agency. The same summer, Jordan Kyrou–who signed his own two-year, $5.6MM deal last month–will also be up for a new contract.
While there are other promising prospects in the Blues system, it really is on Thomas and Kyrou as the two young options to bridge the gap from the veteran core to that next wave. Until Klim Kostin or others prove they're ready for the NHL full-time, Thomas and Kyrou will remain the only two forward on the team under the age of 25. By getting them both signed to reasonable bridge deals, the Blues have given themselves the opportunity to take advantage of any breakouts that result in surplus value.
Photo courtesy of USA Today Sports Images