The Boston Bruins spent a good chunk of cap space on a relatively unproven goaltender in Linus Ullmark this offseason, marking a drastic change from the experienced tandem they've had in recent years. Ullmark has just 117 NHL games under his belt, but signed a four-year, $20MM contract to be the team's starter after both Tuukka Rask and Jaroslav Halak hit the free agent market. While Halak signed a short-term deal with the Vancouver Canucks, Rask is dealing with the rehab for hip surgery and hasn't signed anywhere at this point–well, not officially anyway.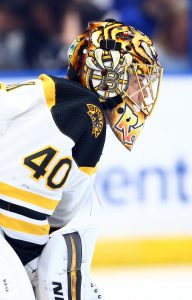 Rask went on WEEI 93.7 today and explained that he has basically agreed to a deal with the Bruins to return as a veteran option partway through the season.
I have no reason to chase the money anymore and go somewhere else. It's going to be one of those things where the Bruins are my home, Boston is my home. I've always wanted to play here, wanted to stay here. So the money won't be an issue. We had a conversation with [Bruins GM Don Sweeney] and I will be a cheap goalie for them.
Now 34, Rask played in just 24 games this season for the Bruins, posting a .913 save percentage that was actually far below his career number. He was still 15-5-2 in the regular season, helped by the team's strong defensive identity, but there were some obvious signs of fall-off as he dealt with injury. In the playoffs, he was back up to a .919 in 11 appearances, but still well below his career norms.
With Ullmark in town and 22-year-old Jeremy Swayman pushing for playing time, the Bruins won't need Rask forever. But if he's healthy enough to return in January as he indicated today, there's no doubt Boston could use him down the stretch. The fact is, for all the detractors he has had throughout his career, Rask is one of the best goaltenders of his generation, if not all-time. His .921 career save percentage sits among the best in NHL history, percentage points behind the likes of Dominik Hasek and Ken Dryden, while his 306 wins put him 32nd all-time.
For those who have questioned his commitment in the past, Rask couldn't have said anything better today when he proclaimed himself a Bruin for life and willing to take a big discount to finish his career in Boston. Now the question is just how effective he will be coming off major hip surgery.
Photo courtesy of USA Today Sports Images