The Nashville Predators and starting goaltender Juuse Saros have reached a new agreement, signing a four-year, $20MM contract. The two sides had an arbitration hearing set for Wednesday, which will no longer be required. Adam Vingan of The Athletic provides the full breakdown:
2021-22: $4.0MM
2022-23: $5.0MM
2023-24: $6.0MM
2025-26: $5.0MM
The contract does not have any trade protection, despite buying out three years of unrestricted free agency for the 26-year-old goaltender. Saros experienced a real breakout this season, showing he could be the team's full-time starter by appearing in 36 games and posting a .927 save percentage. He finished sixth in voting for the Vezina Trophy and even received some Hart Trophy consideration. Predators GM David Poile released a statement on the contract:
Juuse has proven himself as one of the best young goaltenders in the NHL, and we are very pleased to have him remain our No. 1 goaltender for years to come. While being mentored by Pekka Rinne, he has spent the last several seasons growing and taking steps physically and mentally to become a top goalie in this League, as evident by his spot on the NHL's All-Rookie Team in 2017-18 to finishing near the top of Vezina Trophy voting this past season. Juuse gives our team a chance to win in every game he plays, and we feel confident that with him leading the tandem we've established with David Rittich, our goaltenders will be a large part of our success in 2021-22.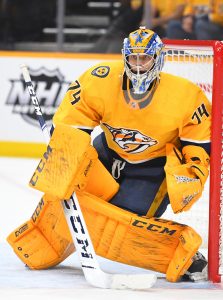 Even though this may have been the first year Saros was recognized on a national scale, Predators fans will know just how good he's been since entering the league. As a 21-year-old rookie he posted a .923 in 21 games and has continued at a high level while playing backup to Nashville legend Pekka Rinne. Among goaltenders with at least 150 NHL appearances, he sits sixth all-time with a .920 save percentage.
With Rinne now retired and completely out of the picture, Saros will be asked to carry a heavy load. The team brought in David Rittich on a one-year, $1.25MM deal to serve as the primary backup, but there's little doubt the newly extended Saros will get the bulk of the work.
The contract actually appears to be quite the bargain for the Predators, considering some of the other goalie deals that have been handed out recently. Linus Ullmark received the same four years and $20MM, for instance, but also negotiated a full no-movement clause in the first two seasons and a modified no-trade clause in the final two. While Ullmark was a UFA already, a year ahead of Saros, his numbers are also nowhere near as strong or as established.
Igor Shesterkin actually got a much higher contract, despite being two years away from UFA status and having just 47 games under his belt. While the Rangers netminder has been outstanding in the early going, his four-year, $22.67MM deal shows the haircut that Saros accepted on this new contract.
There are other extenuating circumstances to all of these negotiations, but this one seems like a win for the Predators, who have no shot of competing without high-level goaltending. The team has struggled to score for years now and has several bloated, underperforming, high-priced contracts on the books upfront. With Saros signed for $5MM, the team can allocate some extra money elsewhere to try and round out the roster.
Elliotte Friedman of Sportsnet broke the contract terms. 
Photo courtesy of USA Today Sports Images