August 2: HC Olomouc of the Czech Extraliga announced that they've signed Krejci to a one-year contract.  Krejci spent time in that program 20 years ago, playing in 26 games in 2000-01 with their Under-18 squad.
July 30: The highest name remaining on our Top 50 UFA list was David Krejci, who was eerily quiet through the first two days of free agency. Now we know why. The veteran forward has announced that he will not be returning to the Boston Bruins or signing with any other NHL team, explaining that he will return to play in the Czech Republic.
Though he doesn't call it retirement, Krejci's NHL career is over for the time being:
Since the end of the season, as I have thought about my future, it has become clear that I need to make a difficult decision for my family and I. At this point in my career and life I need to return to the Czech Republic and play in front of my family who sacrificed so much to help me achieve my NHL dreams. I want to play in front of my parents, brother and friends. I want my children to live where I grew up, spend time with so many Czech family members who love them and create lifelong memories.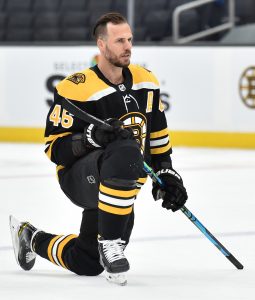 It seemed odd when the Bruins decided to fill so many spots at the start of free agency, signing Nick Foligno, Erik Haula, Derek Forbort, Linus Ullmark and Tomas Nosek, while also committing money to re-signing Taylor Hall and Mike Reilly. Now it's clear that there was never a need to save roster or cap space for Krejci after all.
The 35-year-old center has been one of the most consistent players in the NHL over his 15-year career, recording 730 points in 962 games. Every single one of those contests was completed while wearing the spoked B of the Bruins, most of them without stable linemates. For what has seemed like his entire career, the Bruins had been searching for a true partner to Krejci on the second line, something they had appeared to have finally found in Hall, though it will turn out to be too late. This decision now opens up more questions about how coach Bruce Cassidy will deploy his group, and who will anchor that second spot behind captain Patrice Bergeron.
Perhaps one of the most underrated players of his era, Krejci has been a huge reason for the Bruins' success. In the 2011 Stanley Cup championship, it was a 24-year-old Krejci, not Bergeron, who led the entire playoffs in scoring with 12 goals and 23 points. Two years later when the Bruins would make it back to the Finals, it was again Krejci who led the league with 26 postseason points. Overall, should he not return to the NHL, he'll finish with 124 points in 156 career playoff games, including eight game-winning goals.
With Foligno and Haula joining the Bruins and Charlie Coyle still in the mix, the team will have options at the center ice position. But it's hard to imagine any of them filling the role that Krejci did, even up to this season. In 51 games, he may have scored just eight goals, but still managed to rack up 44 points.
Photo courtesy of USA Today Sports Images