The Edmonton Oilers may have lost Adam Larsson to the Seattle Kraken, but won't be letting Darnell Nurse get anywhere close to free agency. The team has signed their top defenseman to an eight-year contract extension, which, when added to the one-year he has left on his current deal, keeps him locked up through the 2029-30 season. Nurse's average annual value will increase to $9.25MM for the 2022-23 season, giving him the fifth-highest cap hit among NHL defensemen, coming in just below the recent extensions for Zach Werenski and Seth Jones.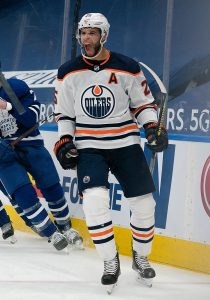 Nurse, 26, was the seventh-overall selection in the 2013 draft, picked three spots behind Jones and just ahead of Philadelphia's Rasmus Ristolainen. During his 406 regular season games, he has recorded 157 points and averaged more than 22 minutes of ice time. Both of those numbers have increased dramatically recently though, with Nurse recording an outstanding 16-goal, 36-point campaign in 2020-21. That was good enough for seventh in the Norris Trophy race, the first time he had received votes for the award.
This is betting that the increased level of play Nurse showed this year will continue, but it's also locking up a player who has never wavered in his commitment to the Oilers. The team has had trouble keeping or attracting premium free agents in the past, which Nurse would have represented had he been allowed to play out this season. He was scheduled for UFA status in the summer of 2022, where teams from all over the league likely would have offered large, long-term deals.
Still, this bet comes with a ton of risk for Edmonton. Nurse has never had very strong defensive metrics, and though he adds a lot of the things teams covet—size, skating ability, physicality and offense—it hasn't resulted in any real success for the Oilers. He's played just 21 postseason games during his career, 13 of those coming in the 2016-17 season and four being the qualification round from 2020. All of that has come when Nurse was making quite a bit less than he will be going forward, meaning he'll have to improve his play to provide any real excess value for Edmonton.
Of course, there is quite a bit of money coming off the books for the Oilers next season. Mikko Koskinen's $4.5MM cap hit will expire, as will contracts for both Kyle Turris and Kris Russell. After the 2022-23 season the team will no longer be paying Milan Lucic (retained) and Andrej Sekera (buyout) to not play for them. A deal of this magnitude doesn't put them in cap hell, but it certainly will restrict what they can do with that extra space.
The question now is how the rest of the blueline will look in Edmonton this season, with newcomers Duncan Keith and Cody Ceci joining the fray. The team has its presumed top-four locked up through at least the 2022-23 season, though the emergence of Evan Bouchard as a difference-maker while still on his entry-level deal would certainly help.
By next season Nurse will become the second-highest paid player on the Oilers, surpassing the $8.5MM that Leon Draisaitl's contract carries through 2024-25. That comes with plenty of expectations, especially on a team that has also has the best player in the world. With this much money being handed out, there will have to be some postseason success and it'll have to come soon.
Photo courtesy of USA Today Sports Images