Wednesday: Official now, Laine has accepted his one-year qualifying offer with Columbus. He will be a restricted free agent again in 2022.
Tuesday: The Columbus Blue Jackets recently extended a qualifying offer to Patrik Laine, as they would any other restricted free agent they wanted to keep in the organization. The difference was, because of the way his previous contract was structured, that qualifying offer came with a salary of $7.5MM. Elliotte Friedman of Sportsnet reports that Laine has accepted that offer, meaning he will sign a one-year deal worth $7.5MM for the 2021-22 season. The contract can't technically be announced until Wednesday.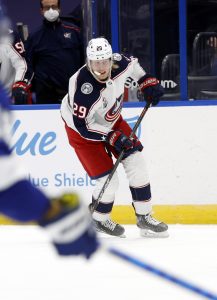 Still just 23, Laine has turned into something of an enigma in the NHL. Supremely talented, he scored 110 goals in his first three seasons, establishing himself as one of the league's next great snipers. Some compared him to players like Alex Ovechkin or Steven Stamkos because of his ability to hammer one-timers accurately into the net on the powerplay, giving the Winnipeg Jets a seemingly unstoppable weapon.
But then, things started to deteriorate, to the point where Laine was traded early this season to the Columbus Blue Jackets. He was quickly put in the doghouse after a run-in with an assistant coach (one that turned out to be Brad Larsen, who is now the team's head coach) and he ended up with just ten goals and 21 points in his 45 games with Columbus. There's no doubting his offensive ability, but his commitment to the defensive side of the game and his sometimes questionable engagement have raised questions about his future.
Auston Matthews, who was compared to him immediately because they went with the first two spots in the 2016 draft, signed a huge long-term contract out of his entry-level deal that made him one of the highest-paid players in the NHL. Laine was given a two-year bridge and traded in the middle of it. Instead of negotiating a long-term deal, he'll now return to Columbus on just a one-year contract, though one that rewards him handsomely. Next year, he'll be an RFA again and will need the same qualifying offer, but perhaps things will have changed.
With a new head coach in Columbus and a fresh start that doesn't have a trade and quarantine involved, Laine could very well get back to dominating the league with that wicked shot. But now just two years away from free agency, it's hard to know just how long he'll be with the Blue Jackets.
Photo courtesy of USA Today Sports Images