UPDATE: Bally Sports Midwest's Andy Strickland reports that if the Seattle Kraken do select Tarasenko, he won't be on the team for opening night. They'll be trading him to a different team.
So you want Vladimir Tarasenko but can't afford his entire cap hit. The St. Louis Blues won't agree to a retained salary deal (at least not for a reasonable price). How do you get him? The answer may be the Seattle Kraken. According to David Pagnotta of The Fourth Period, teams have reached out to Seattle in hopes that they would select Tarasenko in the expansion draft only to retain salary and trade him afterward. The Kraken are apparently open to eating a portion of the contract for the right deal.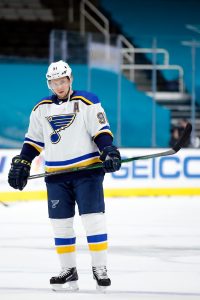 The 29-year-old winger was one of the key names left unprotected for this week's draft, after his relationship with the Blues deteriorated over the last year. Tarasenko is coming off multiple shoulder surgeries and has lost trust in the Blues medical staff, according to several reports. Since the start of the 2019-20 season, he has played in just 34 regular season games, scoring seven goals and 24 points. Whether he's healthy enough to contribute at a high-level next season is still completely unclear, though he did play in all four Blues playoffs games against the Colorado Avalanche–even scoring two goals in the deciding game four.
Of course, a deal like this would also come with an opportunity cost for the Blues. By selecting Tarasenko, they would be passing on the other options from the Blues roster. That includes 24-year-old defenseman Vince Dunn, who was also left unprotected despite registering 32 goals and 102 points in the first four seasons of his career. Dunn's tenure in St. Louis has been rocky, with several healthy scratches, but he is also a young, offensive weapon that teams often covet.
That means whatever you're offering for Tarasenko better be worth it, as the Kraken would be eating a portion of his $7.5MM cap hit, giving up a high-end (albeit risky) sniper, and missing the chance to select a young defenseman.
While Pagnotta doesn't list the teams that would be interested, it's easy to imagine several of the league's top contenders would want to take the risk of a half-off Tarasenko. When healthy, he was one of the league's most dominant goal scorers, putting up five consecutive seasons of at least 33 goals. If Seattle was willing to retain half of his cap hit, for instance, and Tarasenko proves healthy enough to get back to his previous totals, it would be quite a bargain for $3.75MM.
Photo courtesy of USA Today Sports Images