This season, the Chicago Blackhawks were playing without a captain. Jonathan Toews left the club with a mysterious medical condition, one that was never explained by the organization. Now, several months later, Toews has released a video telling fans exactly why he was gone and how excited he is to get back on the ice.
So what they are calling it was Cronic Immune Response Syndrome, where I just couldn't quite recover and my immune system was reacting to everything I did. Any kind of stress, anything I would do throughout the day, had a stress response. So I took some time. That was the frustrating part, not knowing how or when we were going to get over the hump.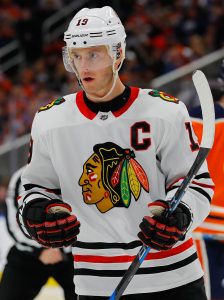 Toews is back on the ice in Chicago preparing for the 2021-22 season.
Without him, the Blackhawks finished the season with a 24-25-7 record and missed the postseason once again. It has been six years since Chicago last won a playoff round (not counting last year's bubble qualifications), though that 2015 run ended in the Stanley Cup. The team has undergone quite a bit of transformation in that time, but the trio of Toews, Patrick Kane, and Duncan Keith remain on the roster trying to reach their previous heights.
Like in Montreal, where GM Marc Bergevin explained previously that he wanted to retool in time for Shea Weber and Carey Price to still be relevant instead of complete a full rebuild, the Blackhawks seem poised to try and compete for the playoffs again in 2021-22, not tear it down. A return to form from Toews would be integral to any success, especially considering how good he has been in recent years. During the 2018-19 season he recorded a career-high 35 goals and 81 points, and in the COVID-shortened 2019-20 campaign he added 60 points in 70 games.
Even if you hate the Blackhawks, it was hard to see Toews on the sideline and wonder what kind of medical issue he was dealing with. Hopefully, this can be put behind him or at least managed well enough to see him back on the ice next season.
Photo courtesy of USA Today Sports Images