The Vegas Golden Knights are trading the first icon in franchise history. Marc-Andre Fleury, who has been the face of the Golden Knights since the expansion draft is on his way to the Chicago Blackhawks, according to Emily Kaplan of ESPN. Kaplan adds that the Golden Knights are not retaining any salary and that the Blackhawks will send just Mikael Hakkarainen in return. On a press conference later in the day, Golden Knights GM Kelly McCrimmon confirmed that though they will own the contract of Hakkarainen, he will stay with the Rockford IceHogs.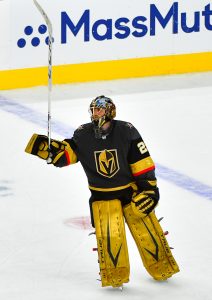 Bob McKenzie of TSN tweets that Chicago was not on Fleury's no-trade list, and the goaltender did not want to play anywhere but Vegas. Elliotte Friedman of Sportsnet tweets that there are "rumblings" the veteran goaltender might even choose to retire due to family reasons. Jesse Granger of The Athletic adds that Fleury learned of the trade via Twitter.
Though there had been speculation about Fleury's future in Vegas ever since Robin Lehner arrived and signed an extension with the club, this is still a stunning move just weeks after he was awarded the Vezina Trophy as the league's best goaltender. The team has cleared his entire $7MM cap hit, giving them room to make additional moves this summer, but it's still a hard way for the organization's first-ever superstar to leave town.
From the moment he was selected, Fleury became the center of the Golden Knights marketing strategy given his Stanley Cup resume and outgoing personality, but he soon became much more than that. The backbone of the roster for four seasons, Fleury actually experienced his own late-career renaissance, posting stronger numbers in Vegas than he had ever registered in Pittsburgh. He finished fifth in the Vezina voting during the 2017-18 season, while leading the team to the Stanley Cup Finals in year one.
Now, at age-36, no one would blame Fleury for hanging up his pads. He sits third all-time on the NHL wins list, tenth in games played, and has now taken home the top individual and team trophies available. Going to Chicago, where there is certainly no guarantee of Stanley Cup contention, would be an odd footnote on the end of a career spent exclusively in two cities. He would however be walking away from the $6MM he is still owed, quite the complicating factor in any decision.
For Vegas, opening up this amount of cap space will lead to wild speculation about their offseason plans. The team now has more than $12MM in cap space with only Nolan Patrick to sign as a restricted free agent. Never afraid to go after the big fish, they now have enough money to pursue the top free agents or trade targets.
Photo courtesy of USA Today Sports Images