July 22: PuckPedia reports that the Oilers have signed Smith to a two-year, $4.4MM contract. The deal will pay the veteran netminder $1.9MM in 2021-22 and $2.5MM in 2022-23. GM Ken Holland confirmed the deal in his press availability, though it has not yet been officially announced by the team.
July 21: The Edmonton Oilers may have lost their 28-year-old shutdown defenseman today, but they won't be losing their 39-year-old goaltender. Patrick Johnston of the Province tweets that Mike Smith will return to the Oilers on a multi-year deal. As Pierre LeBrun of The Athletic adds, teams can't actually re-sign their own free agents until the transaction freeze lifts tomorrow, but there are "positive signs" between Smith and Edmonton. Chris Johnston of Sportsnet reports that the deal is expected to be for two years and carry an average annual value around $2MM.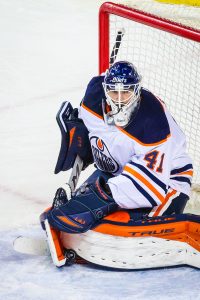 Smith had one of the best seasons of his career in 2020-21, posting a .923 save percentage in 32 appearances for the Oilers and finishing seventh in Vezina Trophy voting. The veteran goaltender, who has now made 600 regular season starts over a 15-year career, hadn't had that kind of performance since the 2011-12 season, when he led the Pheonix Coyotes to the Western Conference Finals. It's hard to expect him to repeat that level of play on this new deal, but Smith at least represents a strong locker room presence and reliable option, even if he's not at a Vezina-level in 2021-22.
Still, this will feel like a step backward for many Oilers fans, who are hoping for improvements this summer. The team re-signed Ryan Nugent-Hopkins to an eight-year deal, but are about to lose Adam Larsson to the Seattle Kraken. A buyout of Mikko Koskinen would clear some cap room, as will Oscar Klefbom staying on long-term injured reserve. But it's not like GM Ken Holland has a ton of space to work with if he wants to take the next step forward.
In fact, if the team does buy out Koskinen, it seems unlikely that the team will be able to really afford a counterpart for Smith, at least not one that carries a high cap hit. The team does already have Alex Stalock under contract at $750K, who could serve as a fine backup, but that would be putting a lot of pressure on Smith to carry the load. With the defensive depth lacking and an upgrade needed to help Connor McDavid and Leon Draisaitl up front, things are getting tricky in Edmonton.
Photo courtesy of USA Today Sports Images