Free agency is now just a little more than a month away and many teams are already looking ahead to when it opens up.  There will be several prominent players set to hit the open market in late July while many teams have key restricted free agents to re-sign as well.  Buffalo's biggest question mark this summer is obviously the fate of the captain, but there are several other pending free agents that also need to be dealt with.
Key Restricted Free Agents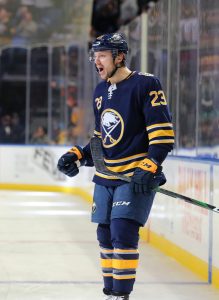 F Sam Reinhart – The trade speculation surrounding Jack Eichel has somewhat hidden any Reinhart news, but make no mistake he is also being discussed around the league. Despite being just 25, the RFA forward will be an unrestricted free agent after next season because he has already played six full seasons in the NHL. While he has never quite lived up to the second-overall billing of true franchise-changing star, there's something to be said for Reinhart's consistent production on a lackluster team. In five of his six seasons, he has recorded at least 22 goals, even tying his career-high of 25 this year in just 54 games. Reinhart has blown the rest of the Sabres out of the water year after year in possession statistics, and there is a real chance that he could explode into a game-changing presence if surrounded by more talent. Buffalo knows this (or should, at least) and will be holding out for a high price, but there is a ticking clock on the pending RFA. Reinhart can simply go to arbitration with the Sabres this season, receive a raise on the $5.2MM he earned in 2020-21 and then walk if he decides to pursue other opportunities. That would be a real miss on the part of the Buffalo front office, meaning a multi-year extension or a trade seem like the only reasonable options this summer.
F Casey Mittelstadt – If only Mittelstadt had developed the way many expected, Buffalo may not be in the situation they are now. The eighth overall pick from 2017 has still not really established himself as a full-time NHL player, even if this season was a legitimate step forward. In 155 career games he has recorded 61 points, a tough total to swallow when you look at that 2017 draft board and see the likes of Martin Necas and Nick Suzuki selected just a few picks later. Still, there are still plenty of reasons to stay the course with the 22-year-old center and given the fact that he is not yet arbitration-eligible, the Sabres should still get him signed at a reasonable price. There is always the threat of an offer sheet for a young player like Mittelstadt, but in today's flat cap world it seems extremely unlikely.
D Rasmus Dahlin – In fact, if there was a Sabres RFA to target with an offer sheet, perhaps it would be Dahlin. The first-overall pick from 2018's entry-level deal is up and he now approaches a negotiation with 107 points in 197 games. Sure, there are real question marks around parts of Dahlin's game, but the 21-year-old defenseman has still been extremely productive in his first few years. In fact, since he entered the league, Dahlin ranks 20th among all NHL defensemen in points, ahead of players like Zach Werenski, Seth Jones, and Aaron Ekblad. No, he did not have a good 2020-21 season, but the Sabres would be absolutely foolish to be doing anything but locking in Dahlin long-term as soon as possible. He should be part of the solution, not the problem in Buffalo. The question is how long will the player want to go with a contract, coming off such a down year? It does seem to make sense for Dahlin's camp to push for a bridge contract and then really cash in after his offensive numbers rebound. That delicate dance is what Sabres GM Kevyn Adams will have to navigate as he tries to get Buffalo pointed in the right direction.
Other RFAs: F Rasmus Asplund, F Dawson DiPietro, D William Borgen, D Henri Jokiharju, D Casey Fitzgerald, G Stefanos Lekkas
Key Unrestricted Free Agents
D Jake McCabe – Normally, McCabe would feature prominently in any offseason plans, given his place as a leader on the Sabres. The 27-year-old defenseman has played his entire NHL career in Buffalo to this point, totalling 353 games over parts of eight seasons. Unfortunately, McCabe suffered a major knee injury earlier this year, with damage to his ACL, MCL and meniscus. He was given a recovery timeline between six and eight months in February, meaning there's a chance he's ready for the start of next season, but who knows what kind of player is coming back. The Sabres should have the best insight into his recovery, so perhaps a contract extension in Buffalo makes sense. There is a feeling of dramatic change surrounding the team right now though, so cutting ties with a player who has been there through all the losing could make sense.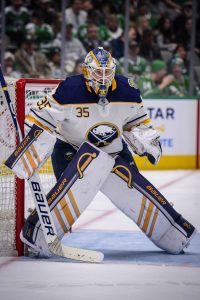 G Linus Ullmark – This is the real question among unrestricted free agents for the Sabres, as without Ullmark they don't really have an NHL goaltender for the 2021-22 season. Partner Carter Hutton is also headed for the open market but is now 35 and coming off two brutal seasons. Ukko-Pekka Luukkonen is the obvious choice as "goaltender of the future" but has just four NHL appearances under his belt. The Sabres have been clear in the fact that they would like to keep Ullmark around, even deciding not to trade him at the deadline in order to continue negotiations. But there's no deal in place yet, and free agency is creeping closer and closer. In 117 appearances with the Sabres, the 27-year-old Ullmark has posted a .912 save percentage. If he can play that well behind a poor team, there's good reason to believe that he can be a legitimate playoff-level starter in the NHL. That of course will be known by his representatives too, meaning the Sabres will have to cough up more than the $2.6MM Ullmark made this season in order to keep him in Buffalo.
Other UFAs: F Tobias Rieder, F Riley Sheahan, F Drake Caggiula, F Jean-Sebastien Dea, F Steven Fogarty, F C.J. Smith, D Matt Irwin, D Brandon Davidson, G Carter Hutton, G Michael Houser
Projected Cap Space
The Sabres are one of the worst teams in the league and they also have a pair of terrible contracts on the books. Jeff Skinner and Kyle Okposo combine for a $15MM cap hit this year and next (with Skinner's $9MM hit lasting long after Okposo's expires), meaning the $34MM in space listed is a bit deceiving. That's more than $47MM in salary committed to just ten players for next season and not many of them are all that good. With new deals for so many restricted free agents to come, the cap is going to become a challenge for Buffalo even before dipping into the unrestricted free agent waters. Of course, if trades for Eichel and Rasmus Ristolainen eventually happen, the financial situation looks a lot more reasonable.
Photo courtesy of USA Today Sports Images.  Contract information courtesy of CapFriendly.