The Chicago Blackhawks are working on a potential trade for Duncan Keith, according to Elliotte Friedman of Sportsnet. The team and player are working together, Friedman tweets, to send the veteran defenseman somewhere he wants to go in the Pacific Northwest or Western Canada.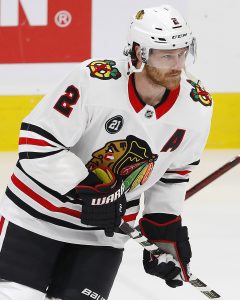 Keith, 37, was born in Winnipeg but grew up in Penticton, British Columbia, where he played junior hockey before going to Michigan State. He has spent his entire NHL career to this point in Chicago, and has two years left on his current deal which carries a cap hit of $5.54MM. Notably, though the cap hit is hefty, he's only actually owed $3.6MM in salary over the final two years. As Brian Hedger of the Columbus Dispatch tweets, there had been reports in the past that Keith would only waive his no-trade clause to end up in Western Canada or "out in that direction."
Of course, there is a new NHL team just about to start play in that area of the continent. The Seattle Kraken are arriving in the NHL next season and happen to be just about a six-hour drive from Penticton, though Friedman does not specifically state which teams are interested in the veteran defenseman.
If it is the end of the line for Keith in Chicago, it has been quite a run. Selected 54th overall in 2002, he had to work his way through college, the WHL, the AHL and a lockout before eventually making his debut in the 2005-06 season. He immediately became a regular for the Blackhawks and would quickly become a core piece for a franchise that would go on to win three Stanley Cup championships. He won the Norris Trophy twice as the league's best defenseman, took home the Conn Smythe in 2015 as playoff MVP (after scoring the Cup-clinching goal) and won two Olympic gold medals for Team Canada.
There's almost nothing left to accomplish in Chicago and with the Blackhawks transitioning to a younger group, his cap space could be used elsewhere. That's not to say he's irrelevant, however, as Keith still averaged over 23 minutes a night and could be a valuable addition, even if his best days are behind him. That kind of experience could be especially helpful for an expansion team like Seattle, who will be trying to get their feet wet with a group collected from around the league.
For the Blackhawks, who have been linked to Jack Eichel among other high-end targets this offseason, moving Keith would not only open up some cap space, but also minutes for their young defense corps. Players like Ian Mitchell, Adam Boqvist, and Nicolas Beaudin will all be vying for more playing time moving forward and without Keith there eating up 23 minutes a night, there will be plenty to go around. The other big benefit from moving him off the roster before the expansion draft is freeing up a protection slot, as currently the Blackhawks would be required to protect him because of his no-movement clause.
That doesn't mean the team improves with him gone, but there was going to have to be a parting of ways at some point in the future–if Keith is on board, it might as well be now.
Photo courtesy of USA Today Sports Images